Lax loses pair, eliminated from playoff contention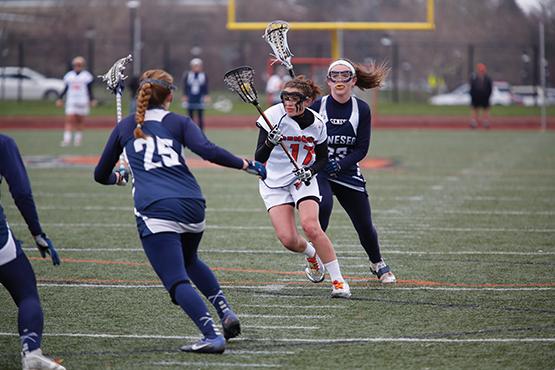 Buffalo State's women's lacrosse team is now 7-7 (2-5 in SUNYAC) after falling to No. 2 Fredonia, 13-7, last Wednesday and losing to Geneseo, 21-10, on Tuesday.
Niki Paulhardt led Buffalo State's offense against Fredonia on Wednesday with three goals and two assists. Kendra Thomas also netted three goals, while Meghan Farrell scored the seventh marker. Alexis Wilensky contributed with two assists.
Buffalo State opened the game with an early 3-1 lead, but Fredonia scored the next five and held a 7-4 lead going into the intermission. The Blue Devils never looked back, and extended their lead by scoring the first four goals of the second half.
Goalie Colleen George played all but the final six minutes, and finished with five saves before Brooklyn Schilling finished out the game in net.
Most measurable statistics were fairly even, as Fredonia held a 23-22 advantage in shots, a 12-10 edge in draw controls, and was on the favorable end of an 18-16 turnover differential.
Schwan felt her team displayed a lack of effort, and could have pulled out a win had they gave it their all.
"We didn't work as hard as we had in other games," said head coach Kelsey Schwan. "If we had brought our work ethic and effort then we absolutely would have been able to win that game."
Junior attacker Kendra Thomas felt that the effort was there, but that miscommunication was to blame for the loss.
"We played a hard-fought game," Thomas said. "We weren't connecting very well in the second half, but the fight was there."
Niki Paulhardt led the Bengals on Tuesday with four goals, giving her 26 on the season. Becca Martinez had two goals and three assists, while Sarah Lorusso added two goals and two assists. Meghan Farrell and Kendra Thomas contributed with a goal and an assist each.
Buffalo State jumped out to an early 2-0 lead, but the Knights pushed back and tied the score at four about five minutes into the game. The Knights led by a score of 10-7 at halftime, and went on to dominate the second half en route to an 11-point victory.
Geneseo dominated draw controls, claiming 25 of 33, and led shots by a wide margin, getting off 42 compared to Buffalo State's 20. The Bengals gave up 19 turnovers while Geneseo coughed up 13.
Colleen George managed 8 stops on 18 shots in the first half, and Brooklyn Schilling allowed 11 goals while making 6 saves in the second.
Although the Bengals kept it close in the first half, the game seemed to slip away after the intermission.
"Our defense did a nice job of shutting down (Geneseo's) play in the first half," Schwan said. "In the second, we gave up too many opportunities. The entire (final) 30 minutes were very frustrating."
"They had possession for most of the second half," Thomas said. "We can't score if we play 25 minutes of defense in a half."
"Draw controls killed us," Farrell said. "We couldn't get possession. The only time we got possession was when we caused a turnover. We didn't do enough to win the game."
Buffalo State was eliminated from playoff contention with the loss on Tuesday, but will look to finish the season strong against Potsdam on Saturday at 1 p.m. at Coyer Field.
Leave a Comment