Science Week takes flight at Buff State
Celebrations highlight positive efforts being made in Buffalo schools
Last week SUNY Buffalo State participated in the Buffalo Public School's first annual Science Week as part of the city's Science, Technology, Engineering and Mathematics (STEM) month. As part of the event, students and instructors from local institutions visited area public schools and colleges to discuss STEM education.
Wednesday was designated teacher development day and took place on the Buffalo State campus. Teaching events were held in the Science and Mathematics Complex and Ketchum Hall throughout the morning and early afternoon.
One of those events was the Master Teacher Presentation, headed by Buffalo State instructors David Henry, associate professor of elementary education and reading, and David Wilson, associate professor of mathematics.
During the presentation, the two introduced some Buffalo master teachers to the audience of instructors. Master teachers are STEM teachers who participate in additional work outside of regular school commitments.
"We have this amazing group of people," Wilson said in describing the group, which included members such as Buffalo State alum Robert Merkle, who teaches in a high-need area of the city.
Wilson and Henry said that they saw Science Week as an opportunity to share good news about the Buffalo public schools that are more often subject to criticism.
"It's centered on some real positive things that have happened," Wilson said. "When that kind of stuff gets highlighted and shared, that's great."
During the presentation, the master teachers also demonstrated a rocket launch pad they developed. Henry said that the rockets were not only complex projects by the teachers, but could also be used for students to practice their own skills.
They first set off a weak model rocket as an example, and then a second one that showed how they improved the machine.
It was enough of an improvement that the second rocket is still lodged in the ceiling of the atrium. Henry said he thinks it will probably stay there for "a while."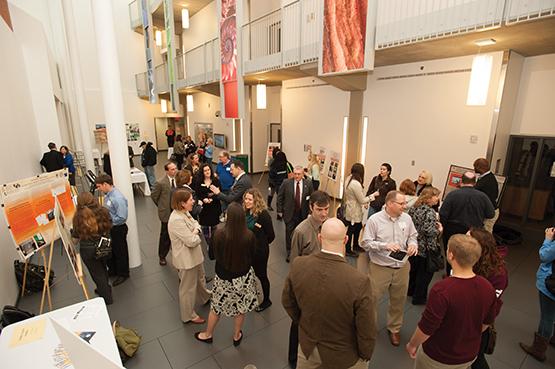 Other events on Wednesday included a demonstration of TeachLive, a virtual classroom simulator, and a presentation on STEM partnerships. There was also a professional development workshop for teachers at McKinley High School.
The city's first Science Week wrapped up at the University at Buffalo on Friday. Those involved were pleased with the results.
"It is quite unique," Dan MacIsaac said, associate professor of physics at Buffalo State. "I wouldn't be surprised to see New York City and Rochester starting up their own STEM weeks. Buffalo is kind of first out the door."
One of the organizations involved in Science Week was ISEP, the Interdisciplinary Science and Engineering Program, which was designed to improve science education in struggling Buffalo schools.
MacIsaac, the co-principal investigator of ISEP, said that Science Week was organized by the New York State Board of Regents, who reached out to STEM educators, at which point ISEP became involved.
MacIsaac said that Buffalo State became a big contributor in Science Week and STEM month because it was historically a teaching college. He said that Science Week was not only a chance to share the good things happening in Buffalo schools, but also a chance to help the teachers in those schools improve their science teaching methods.
"There are a lot of good things going on in the schools," MacIsaac said, noting that he looked forward to next year's celebration.
Email: [email protected]
Leave a Comment