Six-game wining streak snapped at Oneonta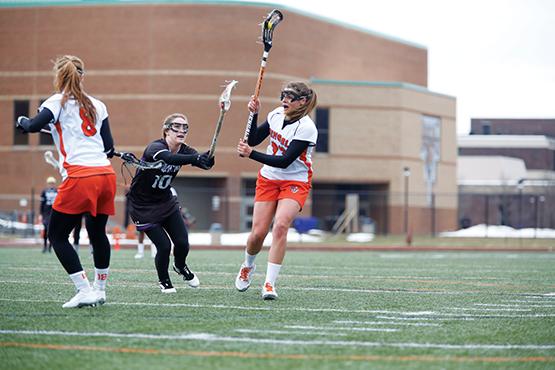 The Buffalo State women's lacrosse team fell to Oneonta, 20-10, this past Saturday, ending their winning streak after six games.
Meghan Farrell led Buffalo State with three goals and an assist, giving her 19 goals on the season, second on the team behind Becca Martinez (26). Kelly McGill, Kendra Thomas, and Niki Paulhardt each netted two for the Bengals, while Martinez added one marker.
Buffalo State took an early 2-1 lead, but the Red Dragons went on to score six of the next seven goals and held onto the lead from there. Oneonta led 12-5 at the half, and didn't allow the Bengals to cut the lead to less than six the rest of the way.
Oneonta got off 36 shots compared to Buffalo State's 28, and had a 19-12 advantage in draw controls. Turnovers were fairly even, as Buffalo State committed 14 and Oneonta gave up 13. Oneonta also scooped up 17 ground balls, while Buffalo State claimed 13.
Head coach Kelsey Schwan said she believes missed opportunities and bad decisions by the Bengals decided Saturday's match.
"We had a lot of opportunities to make the game closer," Schwan said. "In the beginning, it was a two goal game, and then it kind of got out of hand. When we had an opportunity to score a goal, we either made a turnover or a bad decision. We just couldn't quite put it together."
Paulhardt said mistakes made in crucial moments hurt the Bengals' chances on Saturday.
"We turned over the ball at the most crucial moments," Paulhardt said. "They capitalized on our mistakes."
Farrell questioned whether the Bengals were the team that wanted to win more.
"We just need to work harder," Farrell said. "It seemed like they just wanted it more. We need to realize that we can never step down. We hope to see them in the playoffs, and beat them when it really matters."
The teammates agreed that both offensive and defensive faults contributed to the lopsided loss.
"We need to work together better on offense," Paulhardt said. "And we need to be more aggressive on defense."
"We weren't being smart on offense," Farrell said. "On defense, we were leaving girls open at times that really hurt us in the end. We've just been inconsistent."
All three Bengal goalkeepers saw action, as Colleen George was between the pipes for the first half, and freshman Elyse Stark relieved her to start the second. George allowed 12 goals on 16 shots, while Stark managed to stop five shots out of 11. Brooklyn Schilling came in with just over three minutes left in the game, and made one save on three shots.
"Colleen didn't play as well as she did against Brockport (last week), so I gave Elyse the start in the second half," Schwan said. "She had some good saves, but she also made some poor decisions on the clears, so I decided to give Brooklyn a shot. I was hoping one of them would step up and try and get us back in the game. All of them can play, but other things weren't working."
On Tuesday, the Bengals lost at Oswego, 6-5. The Lakers scored the game-winning goal with 1:19 left. Kendra Thomas led Buffalo State (7-4 overall, 2-2 in SUNYAC) with two goals and an assist in the low-scoring affair. George registered a career-high 15 saves for the Bengals.
On Saturday at 12:30 p.m., Buffalo State plays at No. 2 Cortland, which is undefeated so far this season.
Email: [email protected]
Leave a Comment