Snow removal staff working overtime to maintain clear pathways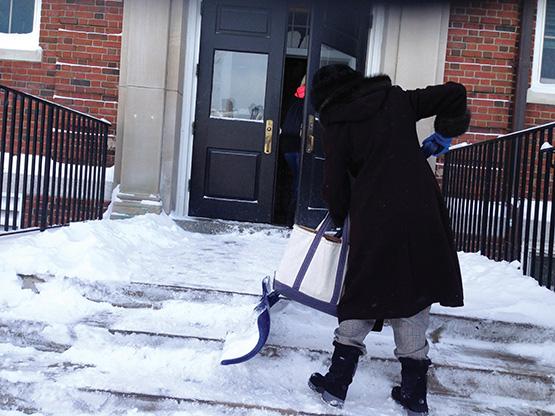 Snow removal staff at SUNY Buffalo State has been working overtime this winter to keep pace with the furious flurries that have slowed campus to a crawl on multiple occasions.
Grounds supervisor John Moffat shared the strategic method that goes into plowing the campus. Moffat decides when the workers need to be out on the ground and what equipment they are going to use.
"When it gets slippery or deemed unsafe is when we start the plowing," Moffat said.
Traffic from students and staff walking around campus during the day makes it difficult for the workers to maintain the area.
Moffat said that they try to plow the area in between classes when there is less traffic.
Depending on the weather, employees will work overtime to maintain the campus, according to Moffat. There are usually seven people working. When it is snowing, there is constantly a crew on campus.
"Sometimes you have to be patient," Moffat said. "We can't be everywhere all the time."
Custodial Services is required to plow the areas 20 feet from a building. This includes sidewalks and ramps.
The timing of a storm also makes it difficult to maintain the grounds.
Campus service director Terry Harding said their hands are tied if a storm hits in the morning when people start arriving on campus and begins to fill up with cars and pedestrians.
"When storms occur at night, we call people in ahead of the forecast and we're here at night to clear the snow before constituents arrive in the morning," Harding said.
Biochemistry student Evan Angelo doesn't believe that grounds workers are to blame for this mess.
"The quad is good to walk, but everywhere else is pretty bad," Angelo said, adding, "I think the problem lies with the small crews. More numbers would improve walk-ability."
Angelo also said that he noticed there is a slower response in the beginning of the week.
Harding said that the safety of constituents is number one on his list.
"We will continue to do our best to see that the taxpayer dollars are well spent," Harding said. "We do our best to address the needs to all of our constituents."
Harding said that they do not plow during whiteout conditions due to visibility issues.
"People might run into us or we could run into them because we can't see," Harding said.
Not only is the snow removal difficult, but calculating its costs is, too.
Funds for snow removal come from the state-operating fund, according to Harding. There is a "people cost" of having workers in the field along with vehicular cost for gas and operating the equipment.
"Roughly it costs $15,000 normally in overtime per year," Harding said, adding that it will probably be higher this year due to the weather.
However, the budget will not make a difference to the maintenance of snow removal because there will still be snow that will have to be taken care of.
Moffat said that people can call facilities maintenance at 878-6111 to request that a path that needs plowing gets cleared up.
Email: [email protected]
Leave a Comment