UPD shares fire safety and security report online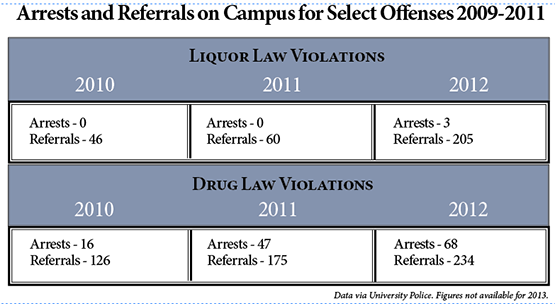 Hang on for a minute...we're trying to find some more stories you might like.
Buffalo State's University Police Department sent out its annual Security and Fire Safety Report notification to students earlier this month. Stated in the report are policy statements, crime statistics for the college and fire safety information.
According to the report, Buffalo State's UPD has recently become one of the six accredited SUNY police departments from the New York State Division of Criminal Justice Services Accreditation Council.
"It is all a part of who we are and what we want our students to know as they make their choice to go to Buffalo State," Chief of Police Peter Carey said.
The report says the statement has to obey the requirements of the Jeanne Clery Disclosure of Campus Security Policy and Crime Statistics Act and the Higher Education Opportunity Act of 2008. It is posted online for easy accessibility to students.
A three-year period of crime statistics is found in the annual report.
Information received from various departments and offices on campus goes into the report, Carey said. He also said that the Buffalo Police provides UPD with crime information for the area immediately surrounding the campus. It is the responsibility of UPD to gather this information and assemble the report.
As seen in the report, the number of drug and liquor violations has increased. Carey said this is because residence life staff and resident students have reported more alcohol and marijuana violations to UPD. UPD patrolling the residence halls have also resulted in an increase in the reportings.
"The numbers represent a proactive response to these violations in cooperation with the resident students and Residence Life," fire safety coordinator David Pawlak said.
The Department of Environmental Health and Safety is in charge of the information in the fire safety section. Pawlak is in favor of having this report. He and his office collaborate with UPD by providing information for the fire log and general fire safety education section.
"The college community has a right to know what, if any, safety concerns they should have about the campus," Pawlak said.
Carey had some words to share with the students, as well.
"Take some time to look at it," Carey said. "Look at the crime statistics and see how safe we are. We are very proud here at Buffalo State that we provide these services."
Pawlak also believes that students should familiarize themselves with the statement.
"The unfortunate truth is that crime does exist and fires do occur," Pawlak said. "In some instances, no amount of police presence or fire safety devices can prevent this."
Pawlak thinks students should educate themselves on how to react in an emergency and be familiar with proper safety practices.
Included in the information and statistics charts are emergency response and evacuation procedures, and the role of students and faculty and staff in the event of an emergency.
"The annual security report has become a good source of many policies of the college procedures, including services that are offered and campus safety and crime prevention information, Carey said."
Carey believes in the importance of reading the report because "it is geared toward safety, which is a priority of the college and students should know that Buffalo State is a safe campus with a low crime rate that has been consistently going down for the past three years."
The report shares a list of prevention and safety awareness programs offered to students. These programs are meant to encourage students and staff to take on the responsibility for their own safety and the security of others.
Email: ali.record@live.com