Campus group fosters welcoming, stigma-free culture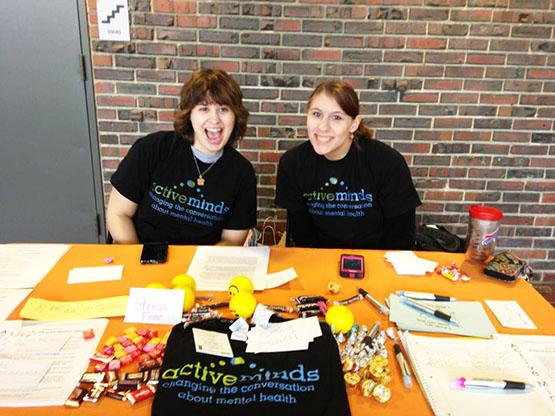 Mental health is often placed on the back burner when it concerns health and wellness. It is easy to speak about physical health, but happenings within the mind are shied away from. As we move away from Mental Health Awareness month, a group of students reminds us that the conversation does not end along with it.
As a society, we are starting to get better at speaking about mental health issues, but a stigma still lingers. Jillian Roupp, member of the Buffalo State chapter of Active Minds, thinks the taboo can be traced back in history.
"Not long ago, you were just carted off to some place where people didn't have to deal with you," she said.
Students may find it difficult to speak about their mental health struggles due to the fear of being perceived differently by peers.
Roupp remembers a friend coming out about having bipolar disorder. She was taken back by the confession.
"A lot of people take it weird if you tell them you have a disorder," she said.
Everybody, especially college students, struggles with mental health.With hectic schedules, numerous responsibilities and limited time, stress, anxiety and depression can easily find their way in.
The Counseling Center offers support groups and workshops to students throughout the year, and this semester is the "Stay Afloat" series. Students are able to discuss what is troubling them in a positive group setting.
Susanne Johnson, counseling staff member and Active Minds adviser, thinks that the first step in opening up the conversation is normalization. Johnson especially thinks that normalization needs to occur within the self.
"I think there has always been a stigma about it," she said. "Since you can't see mental health, then we judge ourselves."
Johnson co-founded the Buffalo State chapter of Active Minds in 2010.
"I kind of made it my project and reached out to the students and faculty," she said.
In that same year, Buffalo State Active Minds President Emily Marshall witnessed the "Send Silence Packing" demonstration on campus. Backpacks were laid out, each with a story about a student who had committed suicide.
"It was representative of what happens on every campus," she said.
Marshall joined Active Minds in the following year and finds her involvement has allowed her to better understand mental health problems, specifically the depression of a close family member.
"It helped me create a better understanding and a better idea of what they go though," she said.
Active Minds is fighting to be recognized by USG, but is not letting that hold them back from taking the steps to improve their organization. They are looking to attend the Active Minds convention this November in Washington, D.C. Going to the convention would give them a better sense of the Active Mind community and ideas to bring back to the Buffalo State community, in addition to allowing them to participate in the "Stamp Out Stigma" walk.
Johnson says that the most important things to focus on for one's mental health are often the three biggest things overlooked by college students. The first is better sleep. The second is being more self-aware, meaning being conscious of our feelings and how our decisions will affect us. The third is taking care of our physical selves. Physical health correlates with mental health, and if we take care of that part of ourselves, that is one less thing to worry about. Taking 20 minutes, three times a week to exercise is sufficient, and allows us to get away from our mental state, if only for a little.
Both Marshall and Roupp think that taking time for oneself, or "self-care,"  is necessary for maintaining good mental health. Roupp takes time out to read sci-fi books and listen to music.
Marshall also reads and finds socialization to be integral to mental health, saying that just hanging out with friends allows her to find her center.
"What I think you should do is just something to make you forget about everything, and jump into someone else's world," Roupp said.
Active Minds meets the first and third Thursday of every month. For more information, contact Emily Marshall at [email protected].
Email: [email protected]
Twitter: @WulffSamantha
Leave a Comment