Rugby rolls past Fredonia
Bengals stay undefeated on season after balanced effort on the road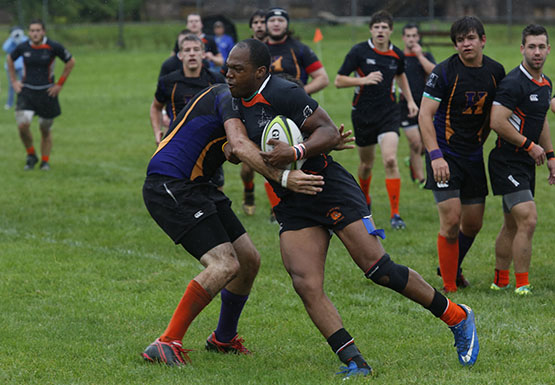 The men's rugby team is now 3-0 after an impressive 55-5 win Saturday at Fredonia.
The Buffalo State men's rugby team has won its past two games by a combined score of 111-5. Buffalo State is the only 3-0 team left in the division.
The general feeling amongst the team is that they have something special this year. The team's game plan every week is to move the ball from sideline to sideline and to get everyone involved on every drive.
To do this, they must have great chemistry and communication. They have it, and it has been key in all three wins.
No one player was mentioned as someone who stood out from the rest of the team in the win Saturday. Rather, the players felt as though the team as a whole should be credited for the win.
"It was an overall great team performance," senior hooker Sam Morreale said. "No one player stands out. A lot of different people scored early and often."
Morreale said the game plan was to use their quickness to tire out Fredonia early on in the game, a plan the team executed well.
"The game plan was to tire them out early and put doubt in their minds," Morreale said. "We wanted to take advantage of our skill and speed because they're bigger than us."
Senior captain Jeremy Galante agreed, adding that the team put forth a complete effort.
"It was one of the best overall efforts I've seen in my 4 and-a-half years as a member of Buffalo State's rugby team," Galante said. "The game plan was to be aggressive and we executed well."
The other senior captain, Christian Feickert, said that the points came from everybody on the team Saturday, including someone who had never scored before.
"I had two tries, but there was scoring from everyone," Feickert said. "Clayton Hoyt scored his first ever try, he should be recognized for that. As for the game plan, we got the ball wide when we needed to, cleaned up the rucks, and made sure to give the offense a lot of opportunities."
Next week, the team travels to Ithaca to take on a 3-0-1 team who just beat No. 22 ranked Niagara University 21-17 on Saturday. Ithaca's tie came against a Geneseo team that Buffalo State defeated in its season opener, 18-17.
The success of both teams makes for an interesting storyline and a good matchup.
Morreale said the matchup against Ithaca presents something new for the team to overcome, and they will have to approach the game differently than the previous three.
"They're a small, fast team," Morreale said. "We need to use our bigger guys to push them around. They're the total opposite of Fredonia."
Galante added that the team needs to continue to play the style of rugby they are accustomed to playing.
"We want to keep playing our style of rugby," he said. "We like to move the ball from side to side. When everyone's on the same page, not many people can run with us."
Leave a Comment