Throwback Thursday: The '86 Lady Bengals played team-ball
The Buffalo State Women's Basketball team hasn't won a SUNYAC championship in almost 16 years and is currently fighting to even get into the conference playoffs.
This week's Throwback Thursday edition takes us back to a time when the program was winning SUNYAC titles consistently.
On the front page of The Record on February 25th, 1986 (Vol. 89 No. 32), Sports Editor Jeff Gates writes the game recap of the 1986 SUNYAC Women's Basketball championship game, a Lady Bengals 80-73 victory at the Bengal Gym on the previous Saturday.
What made the 1985-86 Lady Bengals special was that they truly played team basketball.
"We don't have a star," BSC coach Gail Maloney told The Record in 1986. "I could put any five out there and we'd play the same type of game."
A look at the Bengals' record book would confirm that.
Individually, the members of the '86 team are found three times in the record book. Val Mosey still holds the record for best career scoring average in program history (16.4 PPG) and lead the team with 395 points that year. Karen O'Callaghan was named First-Team All-SUNYAC in both 1985 and 1986 and co-captain Jane Timm is the 25th on the all-time scoring list.
But the team's record and the success of the program surrounding the 1986 season was much more impressive. The Lady Bengals had their most consecutive wins (22) and by the at one point during the season were ranked No. 3 nationally. 1986 was also Buffalo State's third of five straight SUNYAC titles and took home a total of eight conference titles from 1984 to 1994.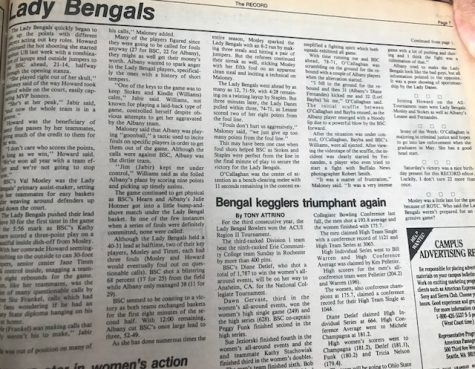 That team-oriented culture was led by coach Dr. Gail Maloney.
Maloney was there almost that entire run (she took the 1986-1987 season off to go after her doctorate) and after 21 years at the helm retired as the program winningest coach with a 374-154 record (.708).
However, Maloney's biggest impact on Buffalo State was her work as an administrator.
Maloney, who was inducted into the Greater Buffalo Sports Hall of Fame in 2010, served as Assistant Athletics Director, Senior Associate Athletics Director and/or Senior Women's Administrator. In her 31 years at Buffalo State, she was instrumental in the implementation of Title IX at the school. That included helping start six brand-new women's programs cross country, ice hockey, lacrosse, softball, soccer, and track and field.
As for the 1986 Lady Bengals, their season came to end with two losses, 70-65 to New York University and 89-73 to Columbia Barnard in their third trip to the NCAA tournament.
This article is a part of our Throwback Thursday series. Every Thursday, we go through our Record archives to find something interesting or relevant. If you have a suggestion for a specific topic or story, send us an email at [email protected].
Check out the old 1985-1986 issue for yourself, here
To access more Record archives, all issues from 1913-2006 can be found online here. 
Twitter: @FrancisBoeck
Email: [email protected]