Event-filled PULSE Week raised awareness of women's rights and race issues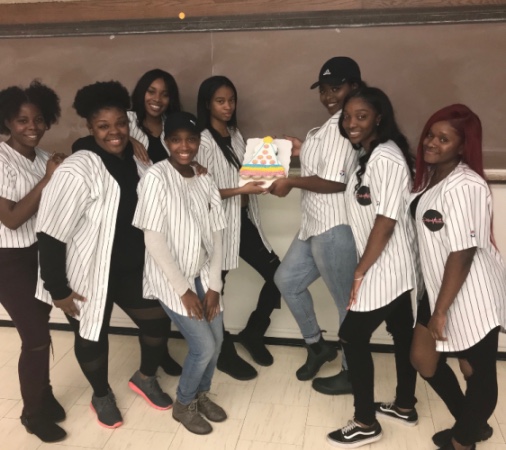 Hang on for a minute...we're trying to find some more stories you might like.
The Powerful United Ladies Striving to Elevate (PULSE) organization kicked off their annual week of events and celebrated the organization's birthday this past week.
The meaningful events attracted SUNY Buffalo State students and residents of Buffalo. Each of the five events had their own smaller theme, but the overall theme for the week was recurring women's issues.
"Overall I feel like the week went well and I'm glad we had a good crowd for some of the events, as well as talk about different current events," said Kyatta Evans, PULSE Treasurer.
PULSE began the week "Say it with your Chest" which was designed to spread awareness about breast cancer and how both men and women can both be affected by this type of cancer. PULSE explained to their attendees the seriousness of taking care of your body and monitoring what foods they intake.
People at the event were also able to tie-dye shirts pink for the Breast Cancer walk that took place on Saturday.ext event on 10/11 was "Black Love" and took place on the same day as the Organization's birthday. People who attended got a chance to watch videos and discuss their viewpoints on the different topics that were presented to them.
"Black Love" took place on the same day as the Organization's birthday. People who attended got a chance to watch videos and discuss their viewpoints on the different topics that were presented to them.
This event encouraged the audience to express their feelings on the stereotypes and actualities that surround the meaning of "Black Love".
Denisha Williams, President of PULSE, said, " The main objective was just to shed light on black love since it has become a popular thing, and we were trying to see if it was just a cultural thing or something being emphasized now because it is so popular."
"I really like the questions they asked and the engagement from everyone that attended," said Zhane Ray, a business marketing major. "The event was fun and I thought they had a good turnout."
"Wild Thoughts" included different activities that kept the audience engaged and interested throughout the two hours. They began with an icebreaker followed by a few mini-games/activities that amused the audience. The audience was very comfortable with talking about their thoughts on certain sexual topics.
One of the activities was about date rape drugs. Participants ate through a bowl of whip cream blindfolded to see who can reach the cherry first. That symbolized how pills can be put in the bottom of drinks.
"This is us (PULSE) kind of us stepping out our comfort zone since people are not used to seeing PULSE speaking "sexual," said Nicole Ricketts, PULSE Historian.
"I feel like it was very informative and they did a good job setting the games up. I learned that one in every five women gets date raped," said Bryan Pearson-Reese, health and wellness major.
"Women to Women," another event, was mainly about how a woman would react if another woman approaches her telling her that her significant other was being unfaithful with her.
They tried giving the audience a feeling-altered nostalgia about how they would react if the situation happened in their household as children. PULSE was able to give the audience a few scenarios so the circulation of ideas can flow.
The last event was a Breast Cancer walk. They walked with other organizations at SUNY Buffalo State. The people who attended the "Say it with your Chest" program were able to wear the pink shirts they made.
"Moving forward I definitely want to get a broader audience, we do stand for Powerful United Ladies Striving to Elevate so we would like to capture all the women on campus. We want to include the men as well because what is women empowerment without the men," Williams said.