Men's soccer shut out twice at Fredonia Clarion Inn classic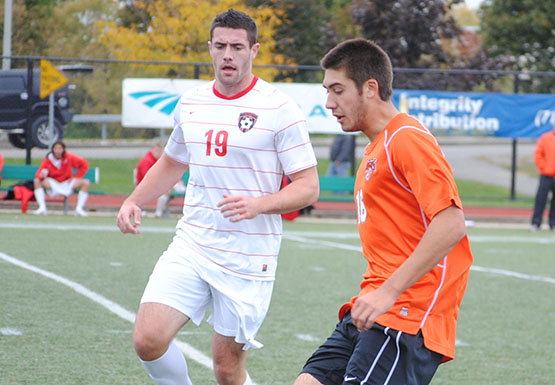 The men's soccer team had plenty of confidence after playing well in their first two games of the season, but they were unable to keep the momentum going at the Fredonia Clarion Inn Classic, ending the weekend with two losses.
Buffalo State's inability to score came back to haunt them this weekend as they fell to a tough Houghton team 1-0 and to a rising Mount St. Mary squad 3-0.
"We were pretty confident coming off the good weekend and coach prepared us well," said senior captain Anthony Appiani. "It was disappointing that we came out flat in both games."
In the first game, Houghton scored the only goal of the game in the sixth minute. The Highlanders did what they had to do the rest of the game, playing excellent defense in their own half of the field to down Buffalo State 1-0.
"We just came out flat and just generally poor," said Appiani.
Buffalo State controlled the majority of the second half against Houghton. The Bengals outshot their opponents 12-9 throughout the game, including 10-4 in the second half.
"We knew that Houghton was going to be a tough test," said senior forward Andrew Dugan. "They've been a quality side every year we've played them."
Houghton is typically a very offensively gifted team, and it was all the Bengals could do to hold them to one goal. Amidst an ever-present competition for the starting goalkeeper position, freshman Robby Kuhnle had a fine game, making two saves in goal for Buffalo State.
In the second game, Buffalo State fell behind early against Mount St. Mary. The Bengals' offense was again grounded in the 3-0 defeat, failing to score a goal for the third straight game.
Mount St Mary opened by putting in two goals in the first 5:23 of the game. They later added an insurance goal to seal the game in the 69th minute.
Freshman goalie Michael Moraitis made the start and had four saves in the loss.
Buffalo State again had plenty of chances as they had a 17-10 advantage in shots and a 6-4 advantage in corner kicks.
The Bengals outshot their opponent in both games over the weekend, but the scoring just wasn't there when they needed it.
"We have an issue with scoring," said junior midfielder Jonathan Commisso. "We have the opportunities, but the final ball seems problematic for us."
Their next test for the Bengals is Roberts Wesleyan. The Redhawks have struggled so far this year, starting 0-2. Still, The Bengals know they have to concentrate more on their own play than on their opponents.
"This week we just have to work and not get down on ourselves," said Appiani. "We are a good team, we just need to go out and play."
Joseph Sarro can be reached by email at [email protected]
Leave a Comment