Bengals split season-opening weekend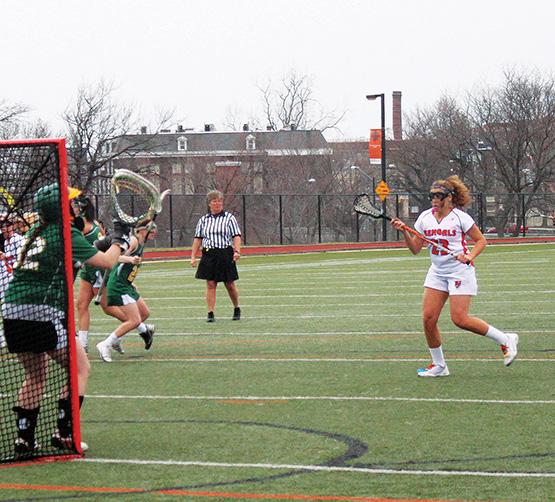 The Buffalo State women's lacrosse team opened the season with a split last weekend, defeating Hartwick, 17-11, on Friday, and falling to Union, 16-3, on Saturday, in two non-conference matchups.
Becca Martinez netted the first goal of the game 28 seconds in, and went on to score four more for a team-leading five goals on the day. Meghan Farrell scored four goals, Niki Paulhardt added three and an assist, Sarah Lorusso had two goals and three assists, and Alexis Wilensky contributed two goals and an assist. Ashley Coleman also scored for the Bengals.
After a five-goal run late in the first half, Buffalo State went into halftime with an 11-6 lead. The Hawks never threatened in the second, as they were unable to cut the Bengals' lead to less than four throughout the rest of the game.
Buffalo State held a 32-28 advantage in shots, won 18 of 30 draws, and scooped up 17 of 29 ground balls. Each team committed 23 turnovers. Colleen George was in goal for the first half, making two saves while allowing six goals. Brooklyn Schilling closed out the second half in net, and made nine saves while conceding five goals. Buffalo State played a clean game and drew no penalties, while Hartwick committed two personal fouls, each resulting in a yellow card.
"We did a great job utilizing all our players," said Kelsey Schwan, who made her debut as head coach. "The whole offense was working together; we moved the ball extremely well. Defensively, we communicated well and ran our high-pressure defense right off the bat, which put them on their heels from the start."
"We came out strong in the beginning," Farrell said. "We stayed up by four goals pretty much the whole game. We didn't let them catch up at all. We worked well together."
The Bengals did not, however, come out strong in the beginning on Saturday, as Union scored the first six goals of the game before Rebecca Galanti put the Bengals on the board at about the midpoint of the first half. Martinez and Coleman each netted one in the second half.
Union dominated the Bengals, attempting nearly twice as many shots as Buffalo State, posting a 29-15 shooting advantage. Union also held a 12-9 advantage in draw controls, and a 16-13 edge on ground balls. Brooklyn Schilling started the game in net for the Bengals, and made three saves on 12 shots. Colleen George came in after the intermission, and gave up seven goals on the 11 shots she faced.
"We just weren't clicking as a team," attacker Kendra Thomas said. "We weren't passing and catching well, we weren't going for the ground balls, we weren't doing the basic things right, and that really hurt us. They had the momentum because they were winning all the draws."
"We're going to have to transition the ball a little bit better from the defense to the offense," George said. "We have to finish drives. We would be in the right spots, but we just wouldn't be able to finish, and that really hurt us."
"We need to work on our offense," Farrell said.  "I think our defense is there. Our offense isn't working together right now, we need to click and start using each other more on offense. We need to win more draw controls. We need to find the back of the net early on before they do."
Farrell is looking at the loss as a wakeup call, and something that they can learn from to improve upon, and to fix the mistakes to avoid another lopsided loss.
"It sucks to lose a game like that," Farrell said. "But I'm glad it was our second game, because now we can work from there and make sure we never have an embarrassing game like that again."
The harsh weather kept the team indoors for most of the preseason, and Schwan said she feels as though that contributed to the unpreparedness of the girls for two straight games in the elements—but she also doesn't want to make excuses for her team.
"It was our second game, back-to-back, and we've only had three practices outside," she said. "Playing indoors and not on the turf has hurt us, but that can be seen as an excuse. We just didn't execute the game plan, really."
"I want to work on the transition in between the thirties," Schwan said. "Getting the ball down field more efficiently, and having more patience on both ends. We need to possess the ball more on offense, and dictate more on defense to avoid the early runs like the one on Saturday. We need to come out with more energy; a little bit more excited, especially after having a win the day before."
The Bengals have a tough matchup, and with it a chance to prove themselves this weekend, as they will travel to Pittsford on Saturday to take on No. 15 St. John Fisher, who is 3-0 after winning two games in Puerto Rico this past weekend.
"We're going to focus on us, and making us better," Schwan said. "We want to be the best team out there against Fisher, and let whatever happens happen. We're not going to focus on what they do, but what we need to do to be successful."
Schwan has seen inconsistency within the team from day-to-day in practice, something she expects with a young group of girls.
"They're a younger group, so in the beginning we were very inconsistent with practices," she said. "We had great practices, followed by extremely bad practices. We've learned to be more consistent, and with that we've gotten much better."
At the same time, she sees a very determined and hard-working group of girls with great chemistry, and predicts improvement and success over the course of the season.
"This team doesn't give up. We were losing by quite a bit on Saturday, but at no point did I feel like they couldn't turn it around. I think that's a great quality about this team. They're a very close-knit group; they get along very well. They push each other, and that's going to make us very successful in the long run."
Schwan is setting the bar high in her first year as head coach, and is putting nothing past the team.
"I want to win a SUNYAC Championship," Schwan said. "I think this group can definitely do it. I want to finish the year, looking back and having no regrets, and knowing we did everything we could to be the best possible team that we could be."
Email: [email protected]
Leave a Comment