Seifritz's spirit serves as inspiration
Bengals dedicate season to fallen family member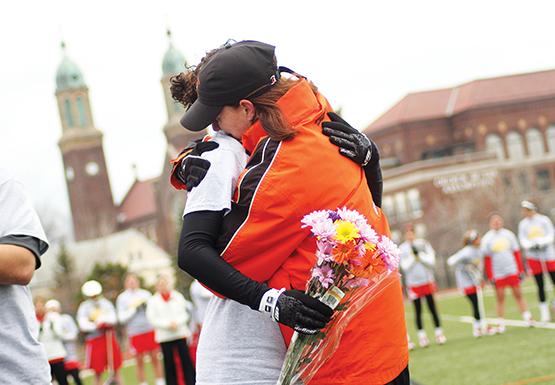 Heading into the 2010 lacrosse season, freshman Ashley Caporizzo was sure it would be her only one on the Buffalo State team.
She was homesick and having trouble adapting to life away from her home in Syracuse. Moving back home and enrolling at local Le Moyne College to play lacrosse after the school year was the peerless option at the time.
Then, big sister intervened.
Each year, freshmen are welcomed to the Buffalo State lacrosse team with a big sister, little sister program. Upperclassmen acquaint incoming players with the modus operandi of the team to get them more comfortable with an unfamiliar lifestyle.
For those who knew Molly Seifritz, it's no marvel the influence she had on Caporizzo that season. As a junior, Seifritz was Caporizzo's big sister.
The two would go to lunch, have movie nights, go for runs around Hoyt Lake wearing bright pink shorts — a staple color of Seifritz's wardrobe, which personified her cheerful, positive outlook of everything in life. And, in turn, big sister sold Buffalo State as the place for little sister to be.
"I think it was all because of her," Caporizzo said of Seifritz being the reason she stayed at Buffalo State. "If she wouldn't have made me feel comfortable, I probably would have been out of here. She made an effort in me."
Caporizzo is certainly not the only one influenced by the transcendent character of Seifritz. She was viewed by many in the program — coaches and players — as being a consummate player, teammate and person. That's why when Seifritz passed away on March 2 after an 18-month battle with cancer, the collective team decision to dedicate the 2013 season to the former two-time captain was a cinch.
"I don't even think it was talked about," Caporizzo said. "It was just 'This is for Molly,' and I think that every season from then on should be for Molly because she gave her all and she would have done the same for us."
In October, 2011, Seifritz was diagnosed with Ewing's sarcoma, a rare form of bone cancer. Upon chemotherapy treatments, the tumor in her left calf shrank and after a successful surgery in May, it was removed completely.
About a month later, it was learned that the cancer spread and Seifritz eventually lost her battle at the age of 25.
She leaves behind an esteemed legacy at Buffalo State filled with both on and off the field fulfillment. Playing from 2007-11, she was granted a fifth-year of eligibility after a season-ending injury in 2009, Seifritz compiled 156 points in 65 games, good for sixth on the school's all-time scoring list.
As accomplished as she was as a player, the true measure of the impact Seifritz had on the program was done away from the playing field. She embodied the family culture coach Meg Stevens embedded into Buffalo State lacrosse since her inception as coach 11 years ago.
"Molly really represented for me what I tried to build in a lacrosse program," Stevens said. "Molly was a kid who will see an extra fifth year just to stay and play after a season-ending injury. It just shows you the amount of character and about how much she meant, but more importantly she was a good teammate. She was a good player, but she really bought into family and she always had a smile on her face."
•••
It was a spontaneous decision that resulted in precious time, though not much of it was left.
On Feb. 27, the Wednesday before the Saturday Seifritz passed, Caporizzo received the news while in class that Seifritz wasn't doing well in her Upstate Medical University at Syracuse room. Nervous and admittedly freaked out, Caporizzo made her way to Stevens' office, where she was greeted by the rest of the team.
With most of the juniors and seniors on the team having played with Seifritz, the news was hard-hitting.
The team sat in the office all day together before Caporizzo and Stevens realized their window was closing. Time was running out for Caporizzo to see her big sister and for Stevens to see one of her kids, as she considers all of her players to be, though Seifritz was the favored child.
"'Cap, we gotta go, we gotta go,'" Caporizzo recalls Stevens saying to her in the office.
Caporizzo agreed. They skipped practice that day to attend to something greater than the game. The two made the 150-minute car ride, which Caporizzo said didn't seem real, to Seifritz's hospital room in Syracuse to say their final goodbyes.
"We knew," Stevens said. "We knew that that would be the last time, but that's also your opportunity to say goodbye. Seeing her for me, she felt like a daughter. All these kids feel like my kids and that's probably the hardest thing I've ever done."
During her final days in the hospital, Seifritz was also visited by a plethora of Buffalo State lacrosse alums. The dwindling time Seifritz had left with her former teammates and coach was mostly filled with laughter and joy — two things that never seemed to escape Seifritz, not even during her dying days.
"It was like nothing had ever changed," said Karen Shaddock, who played from 2009-12, of the time in the hospital room. "Everyone graduating and going away and then we were all back in the hospital together, it was as if we never stopped talking. It went right back to the way it was, so definitely the way Molly would like it, just talking about the good old days."
•••
Saturday was a day that honored the assiduousness and intimacy of the lacrosse program and community.
The Bengals had their senior and alumni game at Coyer Field Saturday with Cortland occupying the visitors' side. But it was hardly a game featuring the Bengals against the Red Dragons.
During pregame warm-ups, the Bengals donned grey t-shirts which read "TEAM MOLLY" on the front. The backside contained the yellow sarcoma awareness ribbon with a yellow lacrosse stick complete with an American flag as the netting.
Prior to the opening faceoff, both teams lined up on the sidelines for a photo. Only Cortland's red jerseys were not visible. They too, put on the grey shirts and became Team Molly for the day, even if they didn't sport the tees for much longer than a minute.
It was a moment denoting the strong sense of community among the sport of lacrosse.
"It means a lot," said Stevens, who also noted that every coach in the SUNYAC reached out to her after Seifritz lost her battle. "I mean the fact one of our biggest rivals came out and wore their t-shirts and we wore ours, it goes to show that it's way beyond the game and Molly was always way beyond the game. Just an impressive show of support from the lacrosse community."
The shirts are part of an initiative Shaddock, who is the coach of Medaille women's team, is setting the groundwork for with former teammate and assistant women's coach at St. Bonaventure, Kendyl Clarkson.
Linked Lax is designed to identify athletes battling cancer to raise money and expose their stories to gain more public support. The ultimate goal is to start clinics, tournaments and sales to raise money for cancer. Shaddock and Clarkson started on a smaller scale over the weekend and still found it to be a success.
Medaille wore the shirts during warm-ups of its games Saturday and Sunday, becoming part of Team Molly. St. Bonaventure and Niagara also adopted a new team name during its games Saturday by wearing the shirts.
Through the shirt sales and donations, as well as 50/50 tickets and bracelets sold at Medaille's weekend games, $1,000 have already been raised for rare cancer research in Molly's name.
•••
Seifritz has been a capstone piece in Stevens' advocacy of building a tradition around togetherness — becoming a family.
The inimitable closeness of the program was exhibited when the team crammed into its coach's office during the most trying of times and players past and present put forth a concerted effort to make sure the proper farewell was given to a sick member of the family.
All of that budded to a family reunion of sorts after Saturday's game. Alumni, along with some of their parents, mingled with current players and their parents during a postgame dinner ceremony in the Sports Arena.
They gathered to celebrate a fallen family member who was about to reach the pinnacle of Bengals' lacrosse tradition.
Stevens announced that Seifritz's home white No. 18 jersey will be enshrined in a glass display and hung in the team's new locker room. The room will be named after her, once the renovation of Houston Gym is completed.
"She set the standard for every player," Shaddock said of Seifritz. "No matter what she was doing, she was always working hard at it and was completely dedicated to her teammates."
The showcase of the jersey, which has been on the bench for every game the Bengals have played this year, ensures the fortification of it. Being the only player in school lacrosse history to have their number protected from future use speaks volumes to the kind of player Seifritz was.
But it is even more telling to the benevolent sister she was and will be for future players.
"Molly's number, from here on out, and jersey will be protected in this family because no one can wear it like Molly wore it," Stevens said.
Email: garland.record@live.com
Twitter: @AA_Garland