New faces rejuvenate men's soccer program
Howlett and co. bring Bengals back to respectability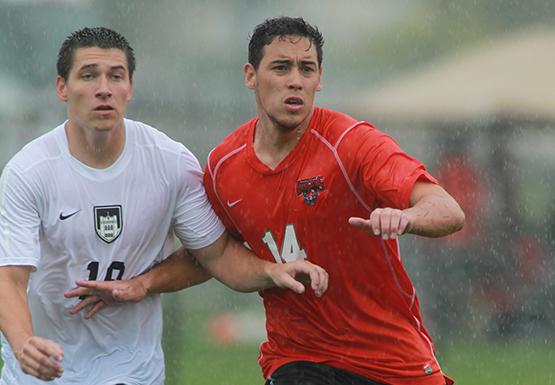 The Buffalo State men's soccer team has turned the page from its ugly 2012 season, when it had a hard time scoring goals and finished with only one win.
The program needed a new look, coach Mark Howlett, who was hired after last season, on March 6, brought in some fresh faces of his own to help change the surrounding culture of the program.
Before coming to Buffalo State, Howlett spent three seasons as head coach at SUNY Canton, leading the men's soccer program's transition from NAIA to NCAA Division III. He led the Kangaroos to 26 victories in three seasons.
Howlett brought three players with him from Canton to Buffalo State: Francesco Cardillo, Matthew Wong and Robert Baxter-Davis. These players have helped turn the program around in 2013. The Bengals are 4-5 in conference play, making them the No. 5 seed for the SUNYAC playoffs, which begin Saturday.
The 13th men's soccer coach in Buffalo State history, Howlett, a native of Portsmouth, England, was a three-time collegiate soccer All-American, playing for two seasons each at Roberts Wesleyan and Judson University.
Wong grew up in England, like Howlett, and their relationship is very strong because of the common experience.
"Buffalo is far from home," Howlett said. "(Wong and I) bonded because I was an international student when I was in college. There's a commitment as people, not just as soccer players."
"I transferred to Buffalo State because I wanted to keep playing for coach Howlett," Wong said. "He's a great coach and I have a fantastic relationship with him."
Howlett recruited 24 players in his first year at Canton, a statistic that shows how strong of an influence he really is on his players.
"The intensity and passion that coach Howlett shows in practice and games is what gives my teammates and I the inspiration to play better," Cardillo said. "I played under him for two years at Canton and coach (Howlett) made me a better soccer player as well as a student."
Wong echoed Cardillo's sentiments.
"Coach Howlett gives me the confidence to play the best I can," Wong said. "Having that faith is the key to any player."
Howlett knows that he can lean on Wong and Cardillo to be leaders on the team. Cardillo has scored three goals, and started every game this season. Wong and Cardillo have both played over 1,000 minutes this season, and have led by example on the field.
"Wong is a very smart young man," Howlett said. "Cardillo is the engine of the team, a hard-worker and leads by example. They are fun to coach."
Howlett has directed the Bengals to an 8-8-1 overall record in addition to the team's first SUNYAC playoff berth in seven years in his first season at the helm. Next year, the team will return nine seniors, including Wong and Cardillo. Baxter-Dennis will be a junior.
"I expect more from them," Howlett said. "When the chips are down, they pick everybody up. I trust them as players."
Leave a Comment