Men's soccer secures SUNYAC quarterfinal spot
Bengals headed to playoffs for first time in seven seasons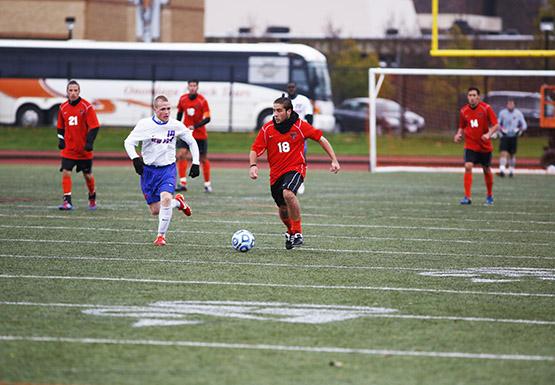 The Buffalo State men's soccer team has a playoff spot for the first time in seven years after splitting its final two regular season conference games.
The Bengals lost 2-0 to Oneonta Friday before beating New Paltz, 3-0.
Head coach Mark Howlett said he was happy with the win and the fact that the seniors can continue playing their collegiate soccer careers.
The Bengals started slowly against Oneonta. Sean Vinberg opened the scoring less than four minutes into the game for Oneonta with a second header off a corner kick to open up the scoring.  It was Vinberg's first goal of the season and was assisted by Jared Van Brunt.
Although Buffalo State goalkeeper Ian Huntoon made some crucial stops halfway through the first half against Alex Winiarski and Luke Halberg, the Bengals couldn't control Oneonta's skilled offense.
Oneonta's Zachary Southworth scored his first goal of the season on a shot to the near corner that was assisted by Jake Southerland to make the score 2-0 in the 22nd minute.  Although the Bengals fought hard, they were unable to comeback.
The next day's game against New Paltz was crucial for the Bengals' playoff hopes. New Paltz got off to a fast start, registering quality shots, but was unable to put the shots on net.
Buffalo State got on the board 18 minutes into the first half when Erik Tellgren scored his second goal of the year from a blast off a rebound that was 12 yards out. C.J. Scirto assisted on the goal.
Buffalo State dominated the game throughout the rest of the match. At one point of the game the Bengals were outshooting New Paltz 12-1.
Buffalo State scored its second goal when Andrew Dugan chipped the ball over goalkeeper Steve Domino on a breakaway. The goal was his third of the season and it was assisted by Scirto to make the score 2-0 heading into halftime.
"When the keeper came out it was just like what we train for almost every day in practice," said Dugan "This weekend we knew that it was going to come down to the New Paltz game."
Buffalo State completed its scoring just four minutes into the second half when forward Keegan Lezama took a quick shot that went off the crossbar and in to give the Bengals a 3-0 lead. Tellgren assisted the goal and it was Lezama's fourth goal of the season.
After the final whistle blew, Buffalo State had clinched its first playoff spot in seven years. Dugan said he was blessed to have an opportunity to experience what many others haven't had the chance to do.
Captain Anthony Appiani said he was excited about the win and the playoff berth.
"It feels really great to go to the playoffs," Appiani said. "We all worked extremely hard all year and none of us want to stop play, especially the seniors because this is our last run at this."
Leave a Comment