Three first-half goals sink men's soccer in SUNYAC matchup with Fredonia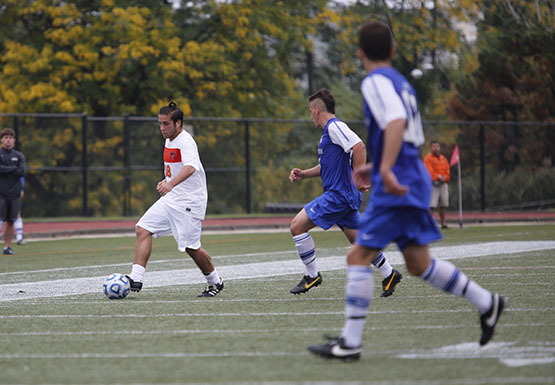 After allowing three unanswered goals in the first half, the Buffalo State men's soccer team fell to Fredonia, 4-2, on Saturday, marking the team's third straight conference loss.
Fredonia held a slim lead in shots, firing 12 compared to Buffalo State's 11, and the Blue Devils had the advantage in corner kicks with a 6-5 edge. The Bengals have given up seven of their last nine goals on either a long throw-in or a corner kick.
Although the Bengals have matched opponents well in shots, head coach Mark Howlett said they have to get their defensive struggles figured out.
"The problem becomes how many goals we're conceding," he said. "We conceded too many goals in the opening (half) of the three games and only three of them have been in the running play."
The game started out as a stalemate for both teams, but it went downhill for the Bengals quickly. After both teams shared quality corner kick chances, Fredonia's Sam Greco had a good opportunity to open the scoring, but his shot went wide.
Two minutes later, Fredonia's Niall Curran scored his first goal of the season on a header from a Dylan Duncan throw-in.
The second goal also came from Curran. After a scramble in front of the net, Curran corralled the ball and finished the play to make the score 2-0.
The Blue Devils' third goal came from Chase Lipshie in the 35th minute. Lipshie headed the ball off of a direct kick from Mike Biggane to give Fredonia a 3-0 lead heading into halftime.
After the break, Buffalo State came out of the locker room with urgency. Francesco Cardillo, Dylan Ross and C.J. Scirto all had quality chances for the Bengals, but sent their shots either high or wide.
In the 59th minute, Buffalo State finally converted on one of its chances. Ross dribbled in from midfield and shot past the keeper to put Buffalo State on the scoreboard for the first time.
The Blue Devils quickly quelled any momentum that Buffalo State gained from Ross' goal with a tally of their own in the 87th minute, when Greco scored off of an assist from Luke Tylutki to make the score 4-1.
It didn't take long for Buffalo State to answer back, though. Freshman forward Ivan Vulin sparked the Bengals with a score in the 88th minute, but the comeback fell short as the Bengals lost their third in a row, 4-2.
"Sometimes we are unlucky, but we have been working hard," senior defenseman Anthony Appiani said. "There are still a lot of games left and we like our chances in the games we have left."
The Bengals have a .500 record against non-conference opponents this season, but they have struggled so far against SUNYAC teams, losing their first three league games.
"The whole year our motto has been to believe," senior forward Andrew Dugan said. "Believe in our team and ourselves. The guys are really mentally strong. We will keep our heads up and continue to work hard in preparation for this weekend."
Email: [email protected]
Leave a Comment