Tellgren takes winding road back to on-field success for Buffalo State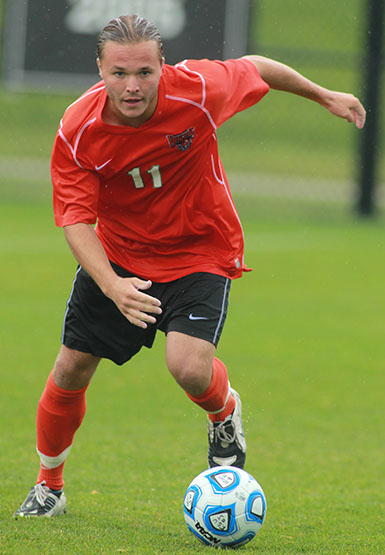 Erik Tellgren's path to play soccer at Buffalo State was one littered with bumps in the road.
Tellgren played soccer for Daemen College in 2009 and 2010. He was the Wildcats' leading scorer as a sophomore in 2010 and was named Honorable Mention All-American Midwest Conference before transferring to Buffalo State in 2011.
When Tellgren arrived at Buffalo State, luck was not on his side. His first year on campus, Tellgren was ineligible to play on the soccer team because he was one academic credit short.
"I was frustrated and I was in good playing shape," he said. "I found out that I was ineligible a few days into preseason."
While waiting for his eligibility, Tellgren suffered a severe leg injury playing on an outdoor soccer team. He tore his ACL and his chance to play for Buffalo State a second time came crashing down.
"I went up to gather the ball," Tellgren said. "My foot went right and my body went left."
Tellgren spent six months in physical therapy, working to get back into soccer shape. After doctors finally cleared him to play, Tellgren immediately put his knee to the test.
He got on the field for Buffalo State in a game for the first time this season on Aug. 30. He impressed his teammates and coaches with his dedication and hard work to recover from such a horrific injury.
"After his ACL injury he was out of shape," Dylan Ross, a forward on the team, said. "He was not able to run and he came back this preseason in shape. That was impressive."
"I admire his hard work," coach Mark Howlett said. "His discipline during his recovery impressed me."
Tellgren has been able to put his injury behind him and flourish in his final year of eligibility. He has started the first seven games of this season, and recorded his first goal as a Bengal on Saturday.
Tellgren has one objective this season and that's to help the Bengals win a SUNYAC championship. He will do whatever Howlett asks from him in order to achieve that goal.
"He accepts his role on the team," Howlett said. "Erik does the non-glamorous things. He's always in my office before and after practice looking to improve and it's a pleasure having him on the team."
A native of Springville, N.Y., Tellgren has been playing soccer since he was 5 years old. The influence and motivation behind the speedy midfielder was his father, Scott.
"My family is my support," Tellgren said. "My father was my biggest influence to play soccer and that challenges me to play my best."
Tellgren was delayed the opportunity to play at Buffalo State, but is making the most out of his experience this year.
"I'm a senior, it's my last year," Tellgren said. "I want to go out on a positive note."
All eyes are certainly on Tellgren for the rest of the season. His dedication and leadership qualities are evident to anyone who watches him play. Tellgren never quit, and his recovery from injury will continue to help push the Bengals to new heights by season's end.
"I never gave up on myself," Tellgren said. "You never know when the next door is going to open."
Bill Schutt can be reached by email at [email protected] and on Twitter @williamschuttjr.
Leave a Comment