Recent grad Henry honored with prestigious national award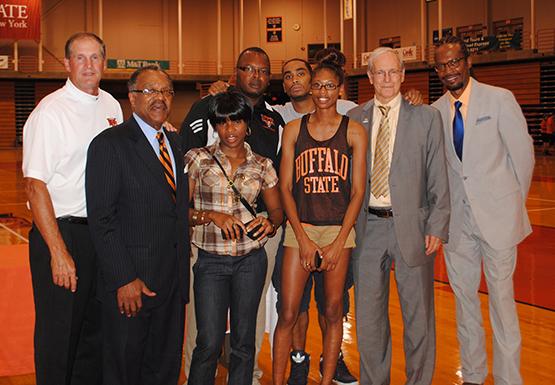 Former Buffalo State track and field athlete Sasha Henry was awarded the Jack Tupper Daniels Award as the top Division III Female Track Athlete of the Year for the 2013 season on Sept. 7.
Henry, who graduated in May, dominated her opponents in her senior season. During the indoor track season in the winter, Henry won SUNYAC titles in the 60- and 200-meter dashes. She then went on to win a Division III national championship in the 60.
For her efforts, Henry was awarded the SUNYAC Outstanding Runner of the Year award.
Henry continued her successes as she entered the outdoor season in the spring, winning SUNYAC conference championships in the 100- and 200-meter dashes, and the 4×100-meter relay. Henry went on to win the national title in the 100-meter dash.
Originally from Jamaica, Henry moved to Mt. Vernon, N.Y., at a young age. As a kid, she was always running and naturally was drawn to it in high school. Henry set four school records at Buffalo State, which include the 60-meter dash (indoor), 100-meter dash, 4×400 meter and 4×100 meter relays (outdoor).
When asked if she ever thought she'd be as successful as she was at Buffalo State, the two-time national champion said she always hoped she'd be a great track runner.
"No, I didn't really think I'd be winning national titles, but I always dreamt about it and being a successful runner," said Henry.
As a track athlete, injuries took their toll early in Henry's collegiate career. As a junior, Henry was ranked fourth in the country, but pulled her hamstring during the outdoor season, preventing her from making nationals.
Entering her senior season, Henry made sure she worked harder in order to finally reach her full potential as an athlete.
"I worked harder because I didn't want to finish like I did (the season before), with an injury," Henry said.
Henry finished her career at Buffalo State as one of the most dominant female track runners in school history, with multiple SUNYAC championships to accompany her national titles.
Henry was honored to have won the Jack Tupper Daniels Award, and expressed happiness that teammate Jazmin Dunham, now a senior, finished second in the voting.
Dunham won the conference title for the 60-meter hurdles during indoor season, and was named an All-American in the event after placing third at the NCAA National Championships.  Dunham then exploded during the outdoor season, winning a SUNYAC conference championship in the 100-meter hurdles, and three All-America certificates.
Dunham won her first NCAA Championship in the 200-meter dash.  She also placed fourth in the 100-meter hurdles and second in the 4×100-meter relay at the NCAAs.
Dunham, a Rochester, N.Y. native, holds six school records at Buffalo State. They include the 60-meter hurdles and the 200-meter dash for indoor track and the 200-meter dash, 100-meter hurdles, 4×100- and 4×400-meter relays for outdoor track. Dunham is a two-time SUNYAC Female Track Athlete of the Year.
Assistant track and field coach Dustin Dimit was proud of his two runners for placing first and second in the voting.
"We're very proud of them, and it's just a nice recognition of a great season and for the careers they've had," Dimit said.
When asked how the two runners have grown from their first year in the track program to last season, Dimit cited their mental fortitude, perseverance, and leadership as precursors to their successes as they moved from first-year runners to national champions.
Chris Losey can be reached by email at [email protected]
Leave a Comment