Men's soccer looks to carry success to 2017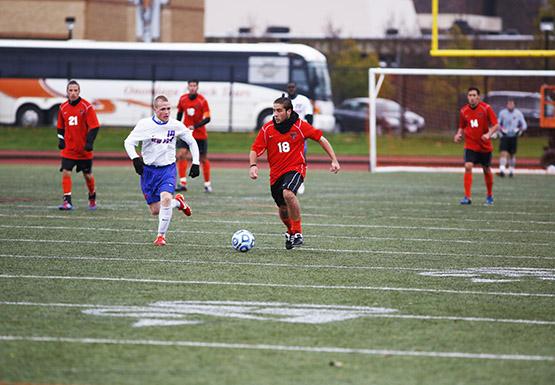 Head coach Mark Howlett has high hopes for the upcoming season. After coming off a 11-7-1 season and reaching the SUNYAC semifinals, his team is hungry to go further.
"These are exciting times," Howlett said. "There's a hunger for sure in the group, and a belief as well. There's a lot of expectations on the group, I truly think they can handle it. We are right there."
The Bengals will try to surpass last season's success even with the losses of starting goalkeeper William Banahene, and former captain Daniel Aguilar Lobo. Bass Sarr, who scored 12 goals as a sophomore last year, is also gone.
Howlett is confident, though, in his current players: Luke Pavone, who redshirted last season due to an injury to regain a senior season, and transfer Josh Beshaw from St. Bonaventure.
"Luke Pavone, who is back from two years ago, he's back and that replaces Bass' goal scoring right away. We also have Josh Beshaw, who will score his fair share of goals, too," Howlett said.
As for the goalkeeper position, the Bengals have a Division-I transfer in Andreas Queen, who expects to takeover and fill the void between the posts.
The team will also look to repeat an impressive stat from last year, to go undefeated at home. The Bengals were a perfect 7-0 at home, although they posted a losing record on the road at 3-7.
Howlett hopes to change that road record for this season.
"Just change the mentality. Last year, we were just immature mentally; when adversity hit, we weren't at the top of our game. I think we just need to change our style on the road a little more," Howlett explained.
They say experience goes a long way and this team has plenty of that with 22 juniors and seniors. So, does the addition of a D-I transfer.
The Bengals opened the season Friday night, blanking D'Youville in their first-ever game under the lights at Coyer Field. They play again under the lights Saturday night against Keuka for 7 p.m. kick-off.
When asked what the mission of the season is, coach kept it simple.
"Going further than we have ever gone," Howlett said. "Whatever that means at the end of the day."
Leave a Comment