Another win over powerhouse Whitewater could launch Bengals football back to glory days
Win would restore Bengals' program prestige, while football culture runs deep at Wisconsin-Whitewater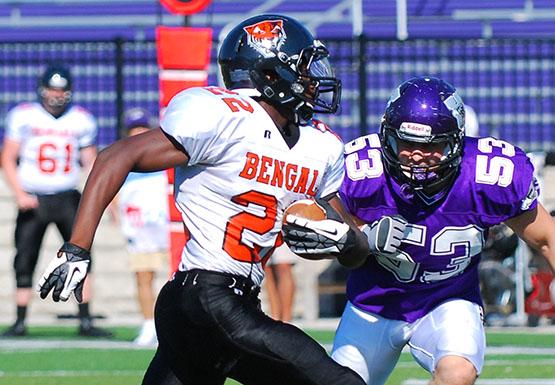 In a perfect world, not one player on a Jerry Boyes-coached football team would know who their opponents are on any given Saturday. Wins, losses, school, the name of the opposing quarterback — it's all irrelevant information as far as he's concerned.
Boyes' team schedules consist of a simple time-date-place format. All the guys need to know is where and when to show up. He prefers it that way. It keeps his players focused on the important things, he says.
This week's matchup reads: SEPTEMBER 21. NOON. HOME. Looks no different from the other nine games.
Except everyone — including Boyes and his players — has had this one circled on their calendars since Buffalo State shocked the Division III football world one September afternoon almost exactly a year ago.
"We'd be lying if we said we didn't know it's a big one," said a grinning Casey Kacz, who will quarterback the Bengals on Saturday when they host national No.15-ranked University of Wisconsin-Whitewater at Coyer Field.
Buffalo State, of course, pulled the carpet out from underneath the then top-ranked Warhawks last season when Kacz and the Bengals orchestrated a masterful scoring drive in the dying seconds to tie the game.
The extra point to make it 7-6 stunned UW-Whitewater, a perennial powerhouse and winner of three of the past four national titles, promptly putting an end to its 46-game winning streak that spanned more than three seasons.
In order to appreciate the true gravity of that win, one must understand the rich culture that is Warhawks football. It's something ingrained into each of the 15,000 or so folks who live in Whitewater, a tiny town tucked into the southeast corner of Wisconsin, about an hour drive due west of Milwaukee.
On game days, purple and white garnish the town — on flags and bumper stickers, on signs adorning the Main Street businesses, on the attire worn by fans lining the streets to boo the incoming visiting team bus or by the 150-piece marching band that plays during halftime of each and every game.
Perkins Stadium, which has housed the Warhawks since 1966, is the largest venue in Division III with the capacity to host 13,500 fans. For all intents and purposes, a Warhawks football game is a mandatory weekly fall ritual for anyone living in Whitewater.
So when Nate Benoit's extra point split the uprights with 3 seconds to play, you can almost hear what Kacz means when he describes how the deafening roar of a stadium packed with an entire town fell silent after that fateful drive.
"If you've ever seen (ESPN's) College Gameday on TV, you can imagine how that place was," Kacz remembered. "It was loud the entire game. Just hearing all the people get dead quiet when we scored the touchdown was insane. I'll never forget it."
Boyes called it the biggest win in Buffalo State history. It will go down as one of the biggest upsets ever in Division III football given the circumstances — a win 12 hours away from home, in Division III's most electric atmosphere, against a perpetually unbeatable team.
Of course, the Bengals' efforts that day went for naught when the team lost its next three games. They would recover and salvage a 6-4 record, their first winning mark since 2000, but it still succumbed to the promise that filled Buffalo State football that day.
"The big question now — and it can only be answered at the end of the season — is did these men who experienced last year learn that lesson?" Boyes told me in his office on Monday. "We, quite frankly, need to show them that last year was no fluke."
That's why this weekend's game, Part Two of a contracted home-and-home series between the two programs, is as big as it is. It will serve as a true litmus test to what might become of Buffalo State football in the near future.
The Bengals are off to a 2-0 start for the first time since 1999.
A win on Saturday not only means the second victory over a team that had lost a total of three games in five years before last season, it also means the Bengals would be undefeated heading into conference play, eyeing a postseason berth for the first time in more than a decade.
Its meaning extends far beyond the win-loss column.
"The biggest thing for me is that it would solidify how far the program has come," said Boyes, who acknowledged the parallels between his early years after taking over the program in 1986 and his second stint as head coach, which began in 2009.
Boyes' teams won a total of four games during his first four seasons as coach from 1986-89. In his fifth season — 1990 — the Bengals went 7-2 and made the playoffs for the first time.
This season happens to be the fifth season since Boyes reclaimed coaching duties. Now that his recruiting classes have had the chance to develop, Boyes now has "his guys" on the field.
Last year, it was 'his guys' who proved they're capable of stacking up against the best Division III has to offer.
"So will history repeat itself?" Boyes mused. "Let's talk about that in November."
If history repeats itself on Saturday, the future could begin to look awfully familiar for Buffalo State football.
Brandon Schlager can be reached by email at sc[email protected]. You can follow him on Twitter @B_Schlag.
Leave a Comment