Bengals see season come to an end in playoff loss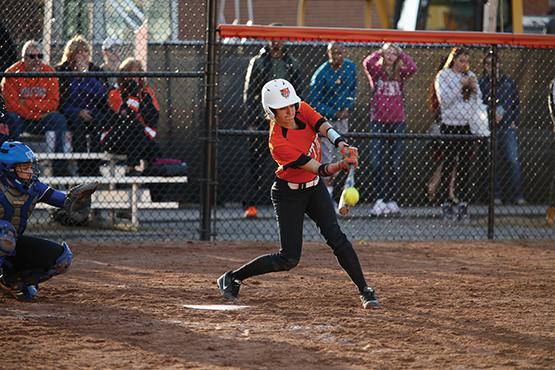 It was a bounce back season for Buffalo State softball, but the Bengals saw their resurgent season come to a close following a 14-6 loss to Cortland in the SUNYAC playoffs on Friday.
The SUNYAC playoffs, hosted by No. 1 seed and would-be tournament champion Oneonta, went from Thursday (May 1) to Sunday. Buffalo State took on Cortland in the tournament opener, falling 6-2. The Bengals then regrouped and defeated New Paltz, 6-3, to earn a rematch with Cortland.
With Buffalo State facing elimination, Cortland took a commanding 7-1 lead after two innings. Buffalo State would battle back to make a game of it in the middle innings.
The Bengals added two runs in the third inning off RBI singles by Shelly Maggard and Kate Brownell to cut Cortland's lead to 7-3. Cortland would push across an unearned run in the bottom of the third and led 8-3. Buffalo State was able to put together a three-run fourth inning to bring them within 8-6. Jean Stahl opened the scoring in the fourth with an RBI single to plate Jenna Clarke. Maggard and Joanna Bardak followed with RBIs.
"It felt like we had Cortland scared for the first time in a long time," Buffalo State coach Marie Curran said. "They kept moving people around and changing pitchers, we just kept hitting and hitting. It was really nice to see the kids get confidence as the game went on."
After Buffalo State cut Cortland's lead to just two, Cortland scored six unanswered runs to take the 14-6 victory. Buffalo State used three different pitchers, but couldn't slow down Cortland's big bats. Senior Sam Tilkins tossed four and a third innings, allowing five earned runs on 10 hits. Junior Maddie Coneys and Alison Novak combined to pitch an inning and a third and allowed six earned runs on six hits.
"Our pitching staff just ran out of steam," Curran said. "The three of them pitched a lot, especially Sam and Maddie. They pitched as much as they could this year and you could really see that in the last couple games. I think you saw that with everyone in SUNYACs."
Along with a tired pitching staff, the Bengals made five errors in the field that led to three Cortland runs. Cortland pounded out 16 hits and scored at least one run in every inning but the fifth.
"They hit the ball really hard," Curran said. "Shelly Maggard made this incredible catch, against the fence, it wasn't out, but she took it off the fence. There were a couple balls that Shelly and Joanna got to in center and left field that surprised a lot of people, including the Cortland hitters. We just got hit so hard that there was no way we could keep up at that point."
Buffalo State was able to keep pace with Cortland's offense for most of the game, finishing the game with 11 hits. Sophomore second baseman Stephanie Novo led the Bengals, going 3-for-4 with two runs scored. Maggard went 2-for-4 and had two RBIs. Brownell also went 2-for-4 and had an RBI.
"
We're softball players. It's part of the game. We know we play with bruises, but without Tom and Sean (Roberts) our two athletic trainers I think we would be in a loss because they're so professional. Their minds are always about the kids when they graduate."
— Marie Curran, Buffalo State softball coach
"It's tough because we scored so many runs," Novo said. "We had so many injuries, it kind of stinks. It would be nice to know what it would have been like if we didn't have so many injuries. We definitely fought through the whole game and I was proud of that. We were down, we could have just given up, but we didn't. We came back and kept scoring runs."
Curran noted that Coneys and Brownell have been dealing with injuries for much of the season. Carly Knight and Kara Stein both were unavailable at SUNYAC's due to injuries.
"We had quite a few girls who I would say played very hurt," Curran said. "Within the lines, our athletic training staff was phenomenal this year. Tom Rutski did an amazing job with the girls. We never put any career-ending injuries on the line, or pushing kids outside limits that we're supposed to. His work and his rehab, everything he did with the girls allowed some of them to play during the season."
College softball can be a tough game, and injuries are inevitable. Example: Sarah Gorski. Gorski got smacked in the face by an Oneonta player's cleats two weeks ago, requiring Gorski to get 12 stitches in her face. She ended up playing the next day.
"That's the kind of team I have," Curran said. "We're softball players. It's part of the game. We know we play with bruises, but without Tom and Sean (Roberts) our two athletic trainers I think we would be in a loss because they're so professional. Their minds are always about the kids when they graduate."
Buffalo State advanced to play Cortland by defeating New Paltz, 6-3 on Friday. Bardak powered Buffalo State at the plate, coming within a double of hitting for the cycle. Bardak opened the scoring with a two-run home run in the first inning and the Bengals wouldn't trail the rest of the game. She finished the day 3-for-4 with four RBIs.
Maggard, Clarke and Sarah Gorski each went 2-for-4 as the Bengals had nine hits. Maggard and Bardak were named to the All-Tournament team. After missing the playoffs last season, the Bengals finished this spring 19-16 overall, 10-8 in the SUNYAC. The win was Buffalo State's first in the SUNYAC tournament since 2011.
"That it is huge, especially for our program and where we want to go," Curran said. "Not negating what the senior class has done for us, but every year you want to take a step forward. This team, Team 36, took a step forward and got back to the tournament, but also winning and finishing higher than where we came in."
Buffalo State will lose Tilkins, Maggard, Knight, and Jordan Dudish to graduation, but will return six starters in the field and their ace pitcher, Coneys. Curran and the Bengals will be looking for even bigger things next season.
"Our potential for next season is very good," Curran said. "We have a lot of young, competitive freshman coming in. We didn't have any freshman on the team this year, so it's going to be nice to have our first big recruiting class coming in. Just seeing the growth of our players, knowing that they're only going to get better is very exciting."
Email: [email protected]
Leave a Comment