Five arrested and charged in assault, robbery of Buffalo State student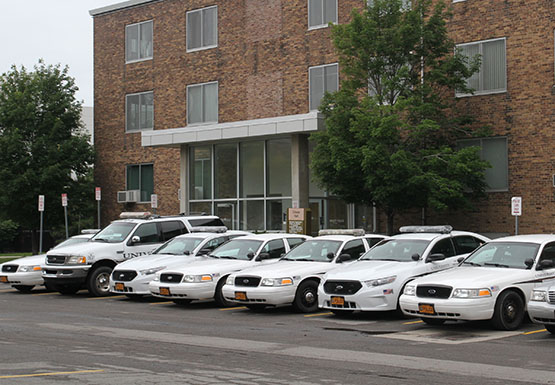 A male Buffalo State student was the victim of assault and robbery shortly after 9 p.m. Tuesday in Lot G.
Two students in the vicinity of the incident heard the victim's calls for help. One student shouted, causing the suspects to flee, while the other called University Police, according to an email sent by UPD Wednesday morning.
University Police said they arrested four adults along with one juvenile suspect on Grant Street less than 10 minutes later.
The victim, who UPD declined to identify, suffered a laceration to the head as well as cuts to the face during the incident in which one of the suspects also displayed a gun.
The suspects, who are not Buffalo State students, were charged with robbery in the 3rd degree, robbery in the 2nd degree, gang assault in the 2nd degree, and grand larceny in the 4th degree.
"The victim is recovering from his injuries and is being provided the necessary assistance," University Police Chief Peter Carey said. "The matter is still under investigation at this time."
The adult suspects are all from Buffalo and have been identified as Stephonne R. Williams, 17; Dovontay Fields, 16; Malik Hines, 16; and Daqwan J. Morris, 18.
UPD declined to release the name of the juvenile suspect.
University Police officers will be in the Campbell Student Union April 29 and May 1 during Bengal Pause to provide information on campus safety and services such as the Safe Escort Program and the Blue Light Telephone System.
Carey said UPD is viewing these sessions as an opportunity to inform the campus community of the safety initiatives that are in place and seek input for possible improvements.
"They will permit us to reinforce the personal safety steps we talk to students about every year at the start of the semester and during orientation," Carey said. "We want to make ourselves easily accessible to students so they can ask questions they may have, as more students may have questions now because of the recent incident. We think this is a timely service to students and we hope to engage the students, faculty and staff in assisting the University Police in our crime prevention efforts, as well as educate our community in personal safety measures and community policing."
Lieutenant Daniel Harris and officers Brian Bidell, Kenneth Herberger, James Huels, Matthew Taylor and James Urbanski responded to the call.
Email: [email protected]
Twitter: @MikeVProvenzano
View Comments (1)