Campus community examines school violence and mental health at public forum
"There is no one profile for school shooters," said associate professor Naci Monaco.
Faculty and students expressed concern and curiosity at Thursday's public campus forum on school violence and mental health.
The forum, held in Bulger Hall, contributed to the national discussion on gun violence in schools. The conversation took place three weeks after the most recent school shooting in Parkland, Florida.
"Happiness can be found, even in the darkest of times, if one only remembers to turn on the light," said moderator Wendy Paterson, quoting the character Albus Dumbledore from J.K. Rowling's Harry Potter to open the discussion.
The forum featured a panel of campus experts and an audience question and answer session that helped illustrate the community's engagement in the issue.
The first panelist to the mic was associate professor Naci Monaco from the Department of Elementary Education and Reading.
Monaco dispelled a lot of false preconception regarding school shooters; including but not limited to; them being loners, acting as victims of bullying, or influenced by violent video games.
"There is no one profile for school shooters," Monaco said. She continued to confirm certain warning signs of possible perpetrators. Among those signs were a fascination with previous shootings, sadism, and self-loathing.
These ideas of what psychological traits are found in school shooters were expanded upon by associate professor of psychology Michael G. MacLean.
He broke down three psychological patterns most mass shooters reflect: psychopathic, psychotic, and traumatized.
Psychopathic shooters neglecting empathy and morality while seeking a sadistic thrill, psychotic shooter suffering from great mental instability, and traumatized shooters influenced by histories of abuse and neglect.
"However, most people diagnosed with mental health problems are not remotely violent," MacLean said.
MacLean was followed by James J. Sobol, chair and associate professor of criminal justice. Sobol addressed the lack of national research conducted towards gun violence as a public health issue.
He credited this to the 1996 Dicky Amendment which restricted federal funding toward gun violence research. Sobol said that the Dicky Amendment exists because of the NRA.
"We have a major health crisis when it comes to guns," Sobol said. "We spend more on studying the flu than we do on studying guns."
Professor of psychology Dwight A. Hennessy warned against polarization when discussing gun control and mental health.
"We end up arguing to change people's minds, instead of solving the problem," Hennessy said.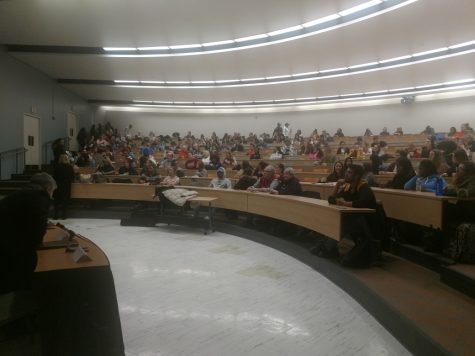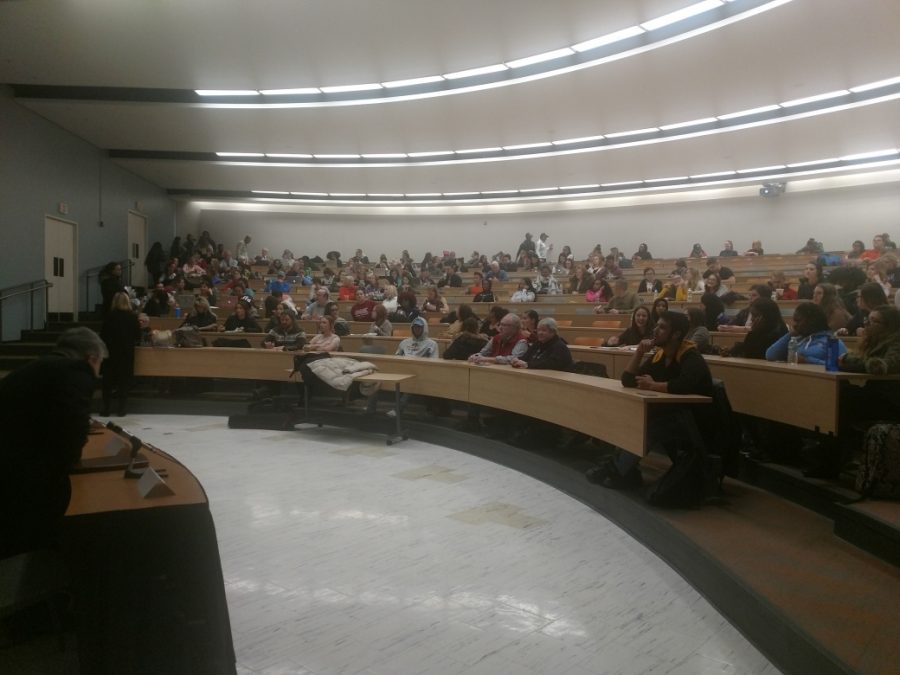 Alexander Means, an associate professor in social and psychological foundations of education, looked at the issue from a sociological perspective. He drew a correlation between social problems and inequality.
"Health and social problems are worse in more unequal countries," Means said, "Other major developed countries don't have this problem."
Means questioned American society's values. "Do we value the right for our kids to go to school without fear of being mowed down by military grade weapons, or the rights of people to obtain those weapons?" he asked.
Andrea B. Nikischer, an assistant professor of adult education, then discussed the influence domestic violence has on gun crime. Nikischer offered many troubling statistics of gun violence during domestic disputes, mostly against women.
One statistic, which made the crowd gasp in particular made the crowd gasp: 50 percent of all female homicide victims are killed by an intimate partner.
"33 percent of mass shooters have a history of domestic violence," Nikischer said. "This should be a red flag."
The panel talks concluded with Joan McCool, the director of the Buffalo State Counseling Center. She offered free and confidential counseling services to all those on campus who need it.
"We want you to know that help is always available and your success is our priority," McCool said. "With counseling and listening, students get better."
In a question and answer session, community members asked questions regarding safety and policy.
Two students asked about campus protocol and safety. The panel shared that there is an active shooter protocol on the campus police website, and to approach the police if they have further questions regarding their investment in active shooter response and preparation.
"They do more than just write parking tickets," Sobol said.
"The NRA wants policies supported by opinions not facts," Sobol said regarding lack of research.
"This is not going to be solved on Facebook, but in politics," Means said regarding a public discussion on gun control.
After the forum, Hennessy commented that this was the type of discussions communities need to have. "We're having an intelligent and honest discussion about the issue that's productive," Hennessy said.