Bengals' bats fall silent in trio of lopsided losses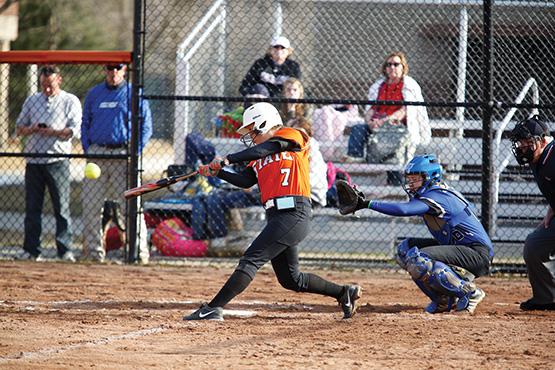 On a somber Monday morning, the Buffalo State softball team had practice. After the Bengals dropped three of four games on a recent road trip, it was time to move forward.
"Great athletes have to have a short-term memory," coach Marie Curran recalled an assistant coach saying to the team.
The road trip saw the Bengals fall to 8-8 overall and 2-2 in SUNYAC play after splitting two games with Allegheny last Wednesday and getting swept by Geneseo on Sunday.
"We need to forget about the implosion at Geneseo and remember that we're a good team," Curran said. "We can hit, we can field and we can pitch. We need to be ready for our games this week."
Buffalo State was shutout in a doubleheader against Geneseo, getting outscored 21-0. In game one, Geneseo took advantage of a Buffalo State error in the first inning to take a 2-0 lead. Geneseo scored two more runs in the third inning before exploding with eight in the fourth.
The Bengals managed just three hits, two coming from sophomore second baseman Stephanie Novo, who went 2-for-3. Sophomore first baseman Sarah Gorski had the teams' third hit, and was 1-for-2.
"We need to be more ready when we show up for games," Novo said. "I think we need to be more pumped up for the first game, too. I don't think we're pumped up enough for the first game and after the first game, we're more ready for the second game."
Geneseo picked up another shutout in game two, blanking Buffalo State 8-0. Geneseo pitcher Corrin Spallone threw six innings of one-hit ball, striking out four. Junior Kate Brownell had the Bengals' lone hit with a second-inning double. The Bengals finished with just four combined hits in two games.
"Pitching can really dictate an offense," Curran said. "The coaches that we faced did a good job, which anyone would when you face a team that hits as well as we do, with really trying to use a lot of changeups. Some of the girls got frustrated and when you get frustrated as a hitter, you don't swing well."
Buffalo State committed 10 errors in the two games and now leads the SUNYAC in errors with 32 errors in 14 games.
"I think our team gets flustered once we make one error," junior Taylor Swiatek said. "Once we make one error, we all kind of get down on ourselves and we end up making another."
Buffalo State split a doubleheader with Allegheny on Wednesday, losing game one, 9-0, and then bouncing back for a 9-1 win in game two. In game one, the Bengals had three hits, with Novo, Shelly Maggard, and Jordan Dudish each having a hit.
Buffalo State was able to rebound in the nightcap. The Bengals pounded out 16 hits, led by Novo, who went 3-for-5 with three runs scored. Jenna Clarke, Swiatek, Joanna Bardak, Jean Stahl, and Jordan Dudish each finished with two hits.
"It was so nice to see us put game one behind us," Curran said. "They just said 'okay, put it behind us. Here we go.' We were able to do that, and we jumped out on them 3-0 in the first inning and you could see how everyone's confidence came right back."
Buffalo State has been one of the best offensive teams in the SUNYAC this season. The Bengals are hitting .332, behind only Brockport (.343) and are third in hits (128). Novo has been one of the SUNYAC's best offensive players, leading the league in batting average (.500) and hits (26).
"When I'm hitting well, it's usually because I'm not thinking about anything when I'm hitting," Novo said. "It's that simple…When I hit the best is when I'm not thinking at all during my at-bats. I've been just trying to have more fun and trying to not be so hard on myself when I don't do well, so it's easy to bounce back."
Buffalo State hosts Ithaca on Wednesday and SUNYAC foes Potsdam and Plattsburgh on Friday and Saturday, respectively.
Email: [email protected]
Leave a Comment