Softball looks to put it all together in 2014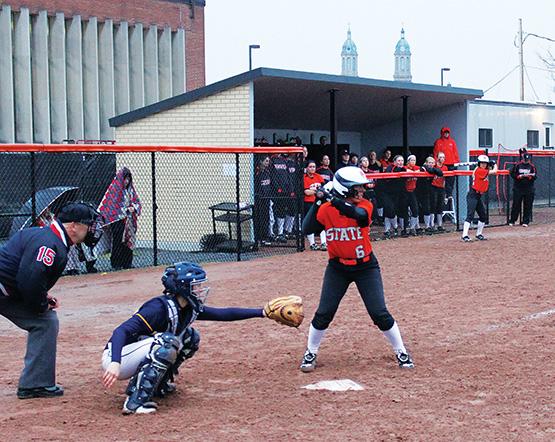 After a disappointing 2013 season for the Buffalo State softball team that saw them lose many close games and underperform all year to finish with a 15-19 record, the Bengals are excited for the fresh start the 2014 season will bring.
Since the season was such a disappointment, head coach Marie Curran, who was in her first full season as head coach, knew some changes had to be made.
"Any season when you have a disappointment, it always puts a little more fuel in the fire and really gets you working hard," Curran said. "I know as a coaching staff we were really thinking about how to tweak things and changing some structure of whether it be practice or strength training or what we were doing. It really reflects back on what we did and what we could have done better.
"I think as a coach you always blame yourself when they lose and you compliment the kids when they win."
One of the major changes they've made this year is having each player involved in an extensive strength and conditioning program with strength and conditioning coach Nate Young.
"Our team has been with him since August and the difference in our strength and our speed and athleticism is amazing," Curran said. "It's a workout the girls have never really had at that level."
Curran sees the strengths of the team being the depth of their pitching staff and the power of their offense as a whole. But she said the biggest strength is the fact that the girls have really bought into the whole team concept rather than playing as individuals.
Senior outfielder Carly Knight and junior catcher Kara Stein both echoed their coach's sentiment.
"Last year we weren't as unified as we are this year," Knight said. "We all have like a really common goal, and we're all really excited."
"Last year we had a lot of potential but it ended up not clicking in the games," Stein said. "I don't think we came together as much as we should've obviously team chemistry wise to play better team games."
As for a weakness the team will have, Curran said that it may be their defense but that is also one of the areas they've worked the hardest to improve. Sophomore infielder Stephanie Novo believes that the team's biggest weakness may be in their heads, rather than on the field.
"My coach always talks about six inches and she means in our head," Novo said. "She was even saying today we have everything there we just have to believe in ourselves and believe that we can do it. We play a failure sport so if it doesn't go our way we just have to shake it off and keep going."
Curran is excited for the addition of a few transfer students to the team. Pitcher Alison Novak, outfielder Joanna Bardak, shortstop Jenna Clarke, outfielder Chrissy Rennard, and pitcher Jordan Sarat will all join the Bengals after spending previous seasons at other schools.
Bardak, who was a Junior College All-American, Clarke and Rennard played at Monroe Community College, where they went to the Junior College Nationals, which gives them the advantage of having some big game experience.
Curran has high expectations for the team this year.
"Arrogantly I'm going to say we will make the playoffs," Curran said. "My peers in the conference have selected us to come in fourth and that's voted on amongst the coaches. I think that's a lot of respect to the girls and what they did see from them last year. We just didn't have that timely hit or that stellar defense at the end of a game."
The players also share that confidence the coach has in them, and have high expectations for themselves as well.
"My mindset is that we're real good," said junior pitcher Maddie Coneys. "I expect a lot from us because I know all of the talent we have and I think if we put it all together, which we have been (doing) in the past few days of practice, that it'll be a good thing this year.
"I think we will make the playoffs this year definitely," Stein said. "We can go as far as we want to go, we have all the talent in the world so I think it depends on how we can come together and take it game by game to hopefully make it to the tournament."
Leave a Comment