Women's basketball tripped up in semifinals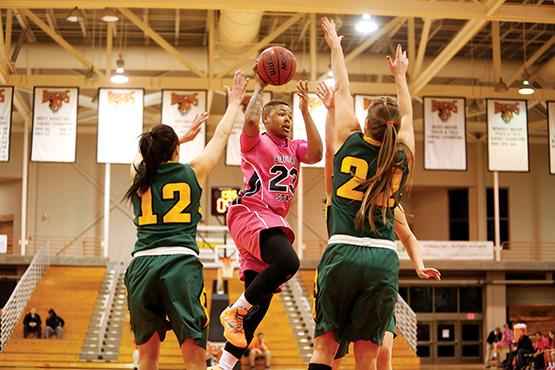 Five seniors, including the second and eleventh all-time Buffalo State women's basketball scorers Staci McElroy and Bianca Smiley, played their last games as Bengals on Friday in Plattsburgh, as Buffalo State (19-7, 14-4 SUNYAC) fell to Geneseo 78-58 in the SUNYAC semifinals.
The Bengals' only lead of the game came early on with a score of 3-2. They trailed by a slim margin throughout most of the first half and went into the intermission down 35-30.
The Knights held an advantage over Buffalo State in nearly every category on Friday, except turnover differential, as the Bengals forced 20 while only coughing up 11. Geneseo grabbed 50 of the game's 84 rebounds, and outscored the Bengals 26-16 in the paint. The Knights shot 44 percent from the field, compared to Buffalo State's 31 percent, and made 19 free-throws compared to the Bengals' six points scored from the charity stripe.
Shooting troubles and inefficiency on the glass were the two main factors contributing to Friday's loss, according to head coach Sue Roarke and her players.
"We didn't shoot the ball particularly well," Roarke said. "They really packed us in defensively, and took away our post play and ability to drive to the basket. We weren't able to make many jump shots either."
"We went into the game saying we had to win the rebounding war," said team captain Kelly Kell. "They definitely outrebounded us. I don't think our defense played that bad, they were just hitting shots, and we weren't."
"We just weren't hitting our shots," Luciani said. "We weren't fully executing our plays."
Smiley played a team-leading 38 minutes, and led the Bengals with 14 points. Olivia Luciani added 12 points, and Staci McElroy had 10 points and 8 rebounds.
McElroy was on the court for the Bengals more than half of the time this season and was the Bengals' leading scorer, playing a total of 800 minutes and scoring 370 points (14.2 per game). McElroy also grabbed 163 rebounds (6.3 per game), third most on the team.
Smiley led the team in rebounds with 205 (7.9 per game), and was second in scoring with 304 points (11.2 per game).
This season, McElroy and Smiley were also the Bengals' most efficient shooters of players who attempted more than 20 shots, shooting 44 percent and 45 percent from the field respectively.
McElroy finished her four-year career as a Bengal with 1,412 points, second in Buffalo State history behind Arlene Eagen (1,699 points, 1987-91). She also finished with 733 rebounds, third most in program history behind Eagen (1419) and Darnika Moseley (750, 2003-07). McElroy was a freshman in 2009 and played three consecutive seasons before taking a year off last year.
"It was a really exciting career for me," McElroy said. "I wasn't expecting any of it. I'm really happy I got the opportunity to accomplish all the things that I did. I'm very thankful for the team and coaches I had behind me, and how supportive they've been of me. Overall, I think I had an awesome career, and I'm really thankful for that."
McElroy isn't sure what type of role basketball will play in her post-grad life, but is thankful for the role it has already played.
"Hopefully I can keep playing in another type of league, but if not, that's OK too," she said, "(Basketball) has taught me good leadership skills and things like that. I think it will help me in life."
Smiley scored 1,048 points in her career at Buffalo State, the eleventh highest total in program history, despite playing only three seasons after transferring from Medaille College following her freshman year.
"Bianca was a huge addition to our team when she transferred freshman year," McElroy said. "That's the season our program turned around and we started winning a lot of games. It was great having her, I'm really happy that she transferred. She's one of my best friends."
McElroy expressed her appreciation for her fellow senior teammates and reiterated that this year's graduating class won't be an easy one to replace.
"All of the seniors this year will be missed," she said. "Kelly Kell was a great captain. She has a great personality and I think everyone's going to miss her. Mary (Cain) played outstanding defense, she's definitely going to be missed. I've been playing with Kala (Crawford) since I was nine years-old. We grew up together. We played at Saratoga High School together. She was a great teammate. She was always full of energy and trying to pump people up."
Despite coming up short of their ultimate goal of winning the SUNYAC championship, the Bengals are putting it all in perspective and aren't letting the postseason loss take anything away from everything they accomplished over the course of their impressive season.
"Obviously, we're disappointed in the final outcome," Roarke said. "But at the same time, we don't want to lose perspective on the season as a whole. It was a 19-win season, and we've got to be proud of that. We can't look past all the positive things we did."
Although they're losing five seniors who played big roles, Roarke is confident that the Bengals will be able to return to form next year and will be able to make a postseason run.
"(The graduating seniors) are a special group," Roarke said. "A few of them are a large part of the success that we had. Those five seniors were a big part of putting our program back on the map. We're getting some of our starters back in (Ashley) Wallace and Luciani. We have a decent group coming back, and a lot of players who can contribute."
Kell said that she believes this senior class is leaving the team in good hands, and expects some of the returning players and new recruits to step up and fill the void the seniors are leaving behind.
"I was telling the returning girls, as long as you work hard, success will come," Kell said. "They have the talent. The seniors are a big loss, but with the new recruits coming in and the talent that's coming back, I think they'll be fine. I have no doubt they'll be a top team next year."
Leave a Comment