Banfield bumps women's soccer to top of SUNYAC standings
Two shutout wins propel Bengals to first place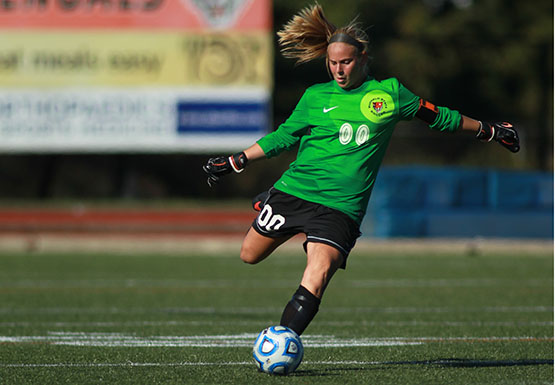 The Buffalo State women's soccer team took over the top spot in the SUNYAC standings over the weekend, thanks to a pair of 1-0 victories over Oswego and Cortland.
The Bengals' first game last week was on Tuesday against non-conference opponent St. John Fisher. A scoreless draw at halftime, the Cardinals took over in the second half, scoring three goals to beat the Bengals, 3-0.
Adding injury to insult, starting goalkeeper Linda Banfield left the game in the 30th minute with an apparent injury. Freshman goalkeeper Sarah Herzberg stepped in for Banfield, allowing three goals while making five saves in what was just her second collegiate game.
On Friday, the Bengals took on Oswego, which immediately gained the upper hand in shots, outshooting the Bengals, 5-4, in the first half.
Oswego continued with the pressure second half, forcing Banfield, who returned from injury, to make eight saves in regulation. Though Oswego outshot Buffalo State, 12-6, in regulation, the Bengals managed to hold an advantage in corner kicks, and held on to force overtime with the score deadlocked at zero.
Their advantage in corner kicks proved to be valuable, as Katie Shaw scored on a header off of a corner kick from Jordan Dudish for the game-winning goal. Shaw's first collegiate goal gave Buffalo State the 1-0 win.
The Bengals took on Cortland the next day in a game which defense once again shined through.
Neither team scored until the 76th minute, when Dudish took a long free kick and Shannon Yokopovich managed to convert on a header in traffic in front of the net to break the deadlock. The goal was Yokopovich's second goal of the season.
Banfield and the defense carried the Bengals the rest of the way, marking their second straight shutout. Banfield has been stellar all year, posting seven shutouts.
Counting the overtime period against Oswego and the 29 minutes she played without allowing a goal against St. John Fisher, Banfield has registered 250:12 straight minutes of shutout soccer.
On her successes this season, Banfield was modest and maintained that the majority of the credit should go to her teammates.
"I'm more proud of my team right now," Banfield said. "We're a resilient group with a stubborn attitude that has gotten us results throughout the entire season. I owe each shutout to my defensive line, and they put in the hard work so my job is easy."
The Bengals now sit atop the SUNYAC standings with a 4-1 record in conference play (8-4-1 overall). According to Paula Jones, the Bengals are very proud of how they've performed this year, but are more focused on sustaining their success.
"It feels good to know that our hard work has paid off but there are still a lot of difficult games left," Jones said. "Our conference is very competitive and any team can beat any other team."
Dudish, who provided the assists on both game-winning goals last weekend, maintains that the Bengals need to stay hungry, but also said that she is very happy with the results so far.
"It feels unreal and we've been working very hard, and as a senior we've never been in this position," she said. "It's a great feeling and we will not let up. Our foot is still on the gas pedal, and I look forward to this weekend."
The Bengals have a pair of home conference games coming up, against Plattsburgh at 3 p.m. Friday and Potsdam at 10 a.m. Saturday.
Leave a Comment