Investigation of Women's Soccer program mostly clears DeMarsh; his future is uncertain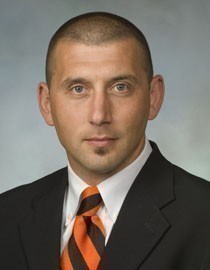 An independent review of the SUNY Buffalo State Women's Soccer program that looked into complaints made by a dozen current and former players against coach Nicholas DeMarsh mostly cleared him of wrongdoing, but his future with the program remains uncertain.
The school sent out the seven-page findings of the months-long investigation conducted by Syracuse-based law firm Bond, Schoeneck & King, PLLC. It was accompanied by a statement from Dr. Timothy Gordon, Vice President for Student Affairs, that said the school has yet to decide if DeMarsh will be the head coach of the team in 2020.
Bond says it interviewed 33 people, including current and former players, Head Athletic Trainer Sean Roberts, Senior Woman Administrator/Associate Director of Athletics Maria Roberts, the Director of Athletics Jerry Boyes, the current assistant Women's Soccer coaches and DeMarsh.
Just days after the season ended in October, 12 players signed a letter accusing DeMarsh of being a bully, violating school and NCAA rules and calling for his removal. The letter prompted an investigation by the school's athletic department.
In late November, that investigation cleared DeMarsh of any wrongdoing. Soon after, a reply to that investigation's findings (which was made public) by 10 of the players was sent to the school and on Nov. 25 Dr. Gordon called for the independent review.
Back in November, The Record spoke with six players, three who were against him and three who supported him, about the complaints made against DeMarsh and the overall atmosphere that surrounded the team last season.
The players calling for DeMarsh's removal cited 16 separate incidents where they claim he did not follow NCAA principals and regulations or school rules.
Among those accusations were: diagnosing a player with anxiety and depression, refusing to accommodate dietary needs of players, telling a player crying in pain that she was being "unprofessional" and "needs to keep it together" and holding personal grudges against certain players, some of which had gone on for multiple seasons.
Many of the specific claims made were addressed in the review.
The investigation largely cleared DeMarsh of the accusations regarding his handling of his players' physical and mental health, overall well-being and encouraging an unsportsmanlike environment, however it found that he did treat certain players unfairly.
Further, it also cleared him of making any NCAA violations.
Among the specific claims addressed was the accusation that DeMarsh ever encouraged players to not go to the trainer or directed players to participate in practice or other team activities before they fully clear to, including allegedly telling a player who had a concussion that "sometimes we just shouldn't go to the trainer."
Investigators say the player who was allegedly told this declined to be interviewed and that none of the other players told them actually heard him make the statement.
Further, Sean Roberts told investigators that DeMarsh is "ultra conservative" in regards to injuries and often not let them back on the field even after they were cleared by a trainer.
However, investigators did say that both players and DeMarsh acknowledged he told players to know the difference between being "hurt" and being "injured" and that players should refrain from going to the trainer if they are "hurt."
The investigation also addressed claims that he body-shamed players. It says players and DeMarsh both agreed that when he used the term "unfit" he was referring their conditioning for games and practices, not about their weight or how they looked.
It refuted claims that players' different dietary needs weren't accommodated.
Players calling for DeMarsh's removal also accused him of diagnosing a player with anxiety and depression. That was also found to be unsubstantiated by the investigators. They say a player had approached DeMarsh that she was stressed and he opened up to her about his own struggles. They found DeMarsh did not encourage her to quit, but rather to consider if continuing to play soccer would make her life better.
In the complaint letter sent to the school in November, the players are said DeMarsh encouraged poor sportsmanship and "allowed a fight to break out on the bench" during a game. Investors say the latter issue was handled appropriately by DeMarsh.
The review did note that the Bengals had the most yellow cards of any team in the SUNYAC. Investigators said of most of the players told them DeMarsh told them not to express their anger toward officials for cards, however they say the findings show that DeMarsh did not consistently enforce this with all of the players.
That was part of the review's assertion that DeMarsh played favorites did not treat all members of the team fairly.
DeMarsh even admitted to telling the team he had "favorites" but say he tried to use the term in a way to motivate players to follow the example of certain players who he felt worked hard.
Investigators found he did not follow his own rule in regards to a second-string player starting the game after scoring a goal.
They also say he referred to some as "practice players" and in their opinion "was unable to provide any examples of what he does to make the least-skilled player feel valuable to the team."
Investigators claim he even admitted to them that he had tried to use the fact that he was a single father to motivate the team on multiple occasions.
The review was critical of his decision to kick a player off the team back in the spring for being "toxic" after she was given an award by her teammates for having a positive attitude. They didn't find his reasoning for making her leave justified.
After players filled out anonymous surveys about him, investigators say DeMarsh inappropriately went about trying to find out who filled out the ones that were negative of him. They say he treated the starters and non-starters differently, especially during individual meetings and that many players felt he was using these meetings to incite drama.
The Record spoke with freshman player Lexi Cummings late Tuesday afternoon about the findings. She says that she and about 10 other current players were told about the findings earlier in the day in a meeting with Dr. Gordon.
Dr. Gordon said in a statement that was sent along with the findings that the investigation showed that the program had "an atmosphere that is inconsistent with our institution's values."
Cummings, who remains in support of DeMarsh, says she thought the investigation was fair and is glad it is done.
However, she and other players, including those who are against DeMarsh, are frustrated at the school for not making a decision on whether or not to bring him back.
"I understand that the school has protocols that they need to go through and things like that," Cummings said. "But spring season is coming up. It's tough because we're are not going to get better as a collective until this is out of our minds and we have closure."
Men's Soccer coach Francesco Cardillo has been running day-to-day operations for the Women's team since Gordon called for the independent review back in November.
According to Cummings, the team would really be put behind the eight-ball if they don't have their own coach by the time spring season starts in mid-March.
The Record reached out to a player who had signed the original letter calling for DeMarsh's removal for comment, but they did not answer back.
The Record also reached out to DeMarsh for comment, he said he is waiting for the school's administration to finish their internal review of the situation before speaking publicly.
DeMarsh is still employed with the school, focusing his time on his duties as the fitness center manager.