DeMarsh reinstated as Women's Soccer coach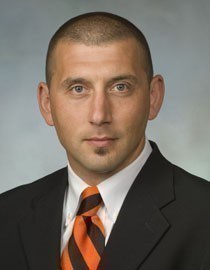 Nicholas DeMarsh will be returning to the sidelines in the fall for the SUNY Buffalo State Women's Soccer team.
School officials shared an email with The Record telling players, staff and program alumni saying that DeMarsh has been asked to remain as head coach of the program.
"I believe we can chart a path forward together to ensure a positive and supportive environment for our student-athletes, while also striving for excellence on the field and in the classroom," Dr. Timothy Gordon, vice president for Student Affairs said in part.
Gordon says he asked DeMarsh to return last month but held off on sharing the news right away because of the ongoing COVID-19 pandemic.
The decision came several weeks after a two-month long independent investigation of the program by the Syracuse-based law firm. The results, which were released in early February, largely cleared DeMarsh of wrongdoing but school officials were holding off on deciding whether he would keep his position.
At the time, Gordon said the investigation showed the program had "an atmosphere that is inconsistent with our institution's values."
It all started just days after the 2019 season ended when 12 players signed a letter accusing DeMarsh of being a bully, violating school and NCAA rules and calling for his removal.
That prompted an investigation by the school's athletic department which also cleared DeMarsh of wrongdoing. Soon after, a reply to that investigation's findings by 10 of the players (which was also made public) was sent to the school and on Nov. 25 Dr. Gordon called for the independent review.
The independent review, which The Record went over in detail back in February, couldn't substantiate 16 outlined claims the players made, which were mainly revolved around DeMarsh's handling of players' physical, mental and emotional health.
In his statement Tuesday, Gordon thanked players who called for DeMarsh's removal for speaking up about their concerns and said he reviewed all messages he received from players, alumni and supporters of the program.
Since late November, Men's Soccer coach Francesco Cardillo had been running day-to-day operations for the Women's team. DeMarsh was still employed with the school as the fitness center manager.