Women's soccer scored two goals for the first time all season, improved to 2-1 in SUNYAC play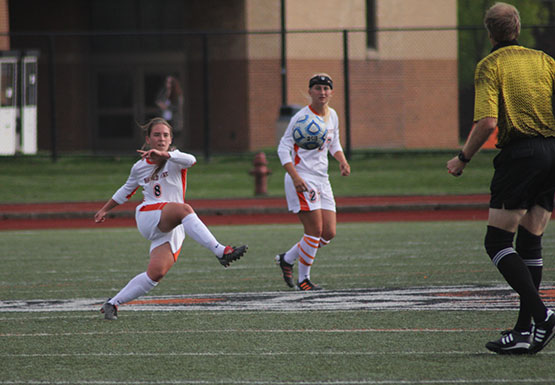 The Buffalo State women's soccer team hung on to beat a rallying Fredonia Blue Devils team, 2-1, Saturday, finally breaking its season-long streak of scoring one goal or less in games.
Buffalo State got on the scoreboard in the 15th minute when senior midfielder Jordan Dudish intercepted a Fredonia pass and drove it into the net. The senior's goal was her first of the season.
"My goal felt great, and it couldn't have come at a better time for me personally," Dudish said. "We made them play it into the middle where we had bodies, I read the pass, intercepted it, and shot it towards the goal."
The Bengals kept the pressure on Fredonia in the first half, outshooting the Blue Devils, 7 to 5. With less than a minute remaining, freshman Micky Tinnerman scored on a breakaway, putting the Bengals up, 2-0, going into halftime. The goal was Tinnerman's second of the season.
Fredonia began to take control of the match in the second half. They put up seven shots while holding Buffalo State to three. Fredonia also dominated in corner kicks, having eight in the second half to Buffalo State's 0.
In the 54th minute, Fredonia's Kristi Putzig capitalized on a pass from Maggie Horan and cut the Bengals' lead in half. Even with the pressure put on by the Blue Devils, Buffalo State managed to hang on for the victory. Goalkeeper Linda Banfield made three saves in the win.
Buffalo State is now 2-1 in SUNYAC play and 6-3-1 overall.
Many players saw improvement in Saturday's game, in which the Bengals broke their nine-game streak of scoring one or fewer goals in each game.
"We were able to possess the ball better, made some really good chances and had great execution on our goals," Banfield said.
Head coach Nick DeMarsh also saw a much-improved team on Saturday, and was very proud of how his team played.
"I was very happy with my team on Saturday. We have shown tremendous grit and stubbornness," he said. "When Fredonia adjusted and came out in a 3-5-2 (formation) in the second half, the girls did bend but they did not break. We held and got the result."
DeMarsh said there is room for advancement as the season progresses when it comes to scoring more goals and putting away more opportunities.
"We actually had several chances for more goals on Saturday and did not finish," DeMarsh said. "When you have a chance to put a team away, you must take it. That is something I hope to improve on as the season gets deeper."
The Bengals have three games this week, including two conference games against Oswego and Cortland over the weekend. Against St. John Fisher on Tuesday, the Bengals plan to rest many of their starters. Freshmen and younger players will get a chance to show what they can do.
"Many of my young freshmen will have an opportunity to play tomorrow and learn some difficult lessons," DeMarsh said. "I believe that tomorrow will be an extremely difficult game to get a result but if this team has taught me anything, it is that we have courage, toughness and conviction. If nothing else, tomorrow will be another good opportunity to get fit and get some good touches for players who have not seen much time."
Junior midfielder Paula Jones said St. John Fisher will be a tough opponent, and that Buffalo State needs to play a clean game in order to bring home a win.
"St. John Fisher is a good team, so we will need to clean up some things defensively before Tuesday," Jones said. "It will be important to get a good result going into our games against Oswego and Cortland this weekend."
Buffalo State will take to the road for both of its SUNYAC games this week, playing Oswego at 4 p.m. on Friday and Cortland on Saturday at 1 p.m.
Email: [email protected]
Leave a Comment