Women's soccer splits first two SUNYAC games
Bengals beat Geneseo with last gasp goal on Friday, then fall to Brockport on Saturday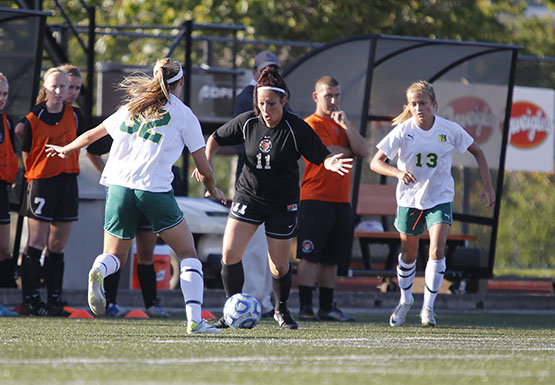 The Buffalo State women's soccer team played its first two conference games last week, beating Geneseo before losing to Brockport.
The Bengals opened SUNYAC play against the Geneseo Knights Friday in front of 125 fans at Coyer Field. Geneseo dominated early, and eventually outshot the Bengals, 8-5. Both teams had three corner kicks each in the first half.
Buffalo State finally broke the tie in the 88th minute, when Megan Chapple scored on a long Paula Jones pass. The goal broke Geneseo goalkeeper Julia Sanger's shutout streak of 448:58.
Goalkeeper Linda Banfield kept the Bengals in the match, turning away a total of five shots to record her fifth shutout of the season and second in a row.
24 hours later, the Bengals took on the Brockport Golden Eagles at Coyer Field.
Brockport dominated play early on, shelling the Bengals with 14 shots. The Bengals looked somewhat overwhelmed with the amount of pressure that was put on by the Eagles. Still, they held it together and kept zeroes on the scoreboard.
Banfield had to be especially quick, turning aside five shots.
The Golden Eagles broke the tie in the 55th minute in a scramble in front of the net. Banfield appeared to have made the initial stop, but the shot rang off of the post and Brockport's Katie Gildemeyer buried the rebound.
The Bengals had a few opportunities late in the match, with two corner kicks within the final five minutes, but they couldn't capitalize, and lost 1-0. Brockport goalkeeper Laura Thompson only needed to make two saves for the win.
"We didn't really play our game against Brockport," said midfielder Paula Jones. "We let their physical style of play dictate the way we played, but we know we need to change that and work on that this week and set our own pace for the game."
Head coach Nicholas DeMarsh took responsibility for the loss, and will look to make adjustments in practice this week.
"I think we need to stick to what we do," he said. "Against Geneseo we played our style and our system, and against Brockport we succumbed to their ugly style of play, and we started doing the same thing and that's just not how we play.
"As a coach you take that personally, and I take responsibility for that, so we have to remember who we are and do that first every game."
With a match against Fredonia coming up this Saturday, the Bengals will continue to work on things in practice with an emphasis on set pieces.
"We need to work on our set pieces, like direct kicks and corner kicks, and just getting behind the ball," said midfielder Emily Wyse.
Fredonia (1-5-2) is 0-1-1 in the SUNYAC so far. They have only scored six goals in eight games this season, and have been shut out five times.
"Fredonia is a different animal, they play the same system we do and have very similar players to us, so that's going to be a very close game," said DeMarsh. "I think in terms of game planning, we're prepared and we know them well, and now it's about execution and getting in front of the goal and finishing."
The Bengals play at Fredonia on Saturday at 1 p.m.
Leave a Comment