Opinion: Why you should shop local (all year round)
Every year around Thanksgiving, shoppers all over the country begin to see the navy and white advertisements everywhere: "SHOP SMALL SATURDAY."
Thanks to the popular American Express campaign, Small Business Saturday has promoted shopping at mom and pop shops and locally-owned boutiques at the start of the holiday season. The campaign jump-starts their sales for the quarter.
But we can't forget about the rest of the year.
According to the Bureau of Labor Statistics, only about half of all new businesses survive for five years and only one-third survive after 10 years. Many owners have poured their savings into their businesses and rely on the patronage of their community to survive. However, Wal-Mart seems to do just fine, bringing in revenue of $482.1 billion in 2016.
There are many deserving reasons to bring your business to a locally owned boutique instead of a chain store. One reason is originality.
"We look at the trends and we try to find what no one else will have," said Victoria Schaffstall, owner of Blush Buffalo, a local clothing boutique with three locations in Western New York.
Schaffstall and her team attend designer trunk shows to handpick each item for their stores. Their goal? Finding unique pieces and trends before anyone else. Brands found at boutiques like Blush are not usually found at the mall.
Kilby Bronstein owns Half & Half Clothing Co., a boutique on Elmwood Avenue. She agrees that one of the best reasons to shop at a boutique instead of a chain store is uniqueness.
"The personal touch is really the biggest aspect. Working with someone who owns the store and does the buying and puts it together," Bronstein said, "you lose that while shopping at a big chain store."
Another motive to shop local is the experience.
"You're not going to walk into Kohl's and have someone style you," Schaffstall said.
Boutiques have smaller storefronts that feature a more curated selection of clothes and a small staff who genuinely care about the wellbeing of the store. In some cases, they'll even give a customer a personal styling session.
"Boutiques here on Elmwood Avenue provide a very different atmosphere than chain or big box businesses," said Ashley Smith, executive director of the Elmwood Village Association. "If you're looking for a personalized shopping experience and attentive service, boutique shopping can give you that."
Supporting a local business also often means directly supporting an entrepreneur, family or small network of owners.
"You're not really helping a corporation, you're helping a family," Schaffstall said. "My daughter-in-law and I own the business together, so this is how we contribute to our family."
Aside from filling otherwise-empty storefronts and providing places to shop, small businesses give back to their hometown communities in both small and large ways.
"You have to find meaning behind it; it's not just about selling clothes," Bronstein said. Half & Half Clothing Co. collects cans and donates money to the Food Bank of Western New York, has collected used jeans for Journey's End Refugee Center and supports other local charities and organizations.
Breadhive, a bakery and café in Buffalo's West Side, redistributes unsold food to community members in need instead of throwing it away. The Lexington Co-op allows any community member to buy a share and become an owner, sharing the profits amongst the whole community. Blush Buffalo contributes gift baskets and donations to local fundraisers and participates in Elmwood Village's "Shoptober Bra Crawl," a breast cancer awareness shopping events in which a portion of sales are donated to the American Cancer Society.
Chain stores do have their place in the economy. A recent study published in the Journal of Personality and Social Psychology found that familiarity was one of the main reasons Americans love the strip mall. A Citylab.com article likened it to "ordering the same drink at a bar." Americans, especially when in a new city, like seeing things they recognize and knowing what to expect.
Local boutiques have unique pieces, attentive staff and give back to the community. So while a strip mall may be convenient, remember who your hard-earned money is supporting.
"America is really built on small businesses… they are the backbone of this country," Bronstein said.
Email: [email protected]
Twitter: @chessabond
Leave a Comment
About the Contributor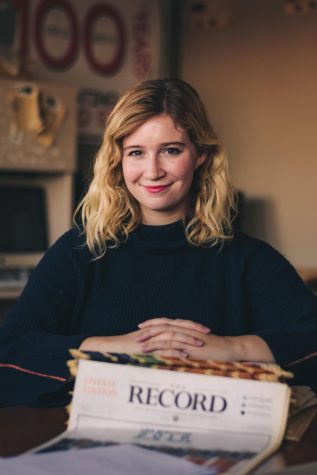 Francesca Bond, Executive Editor
Francesca Bond is an undergraduate student at SUNY Buffalo State. She has a major in Journalism and a double minor in Sociology and Political Science....