Early woes continue for Women's Soccer; fall to Nazareth, 3-1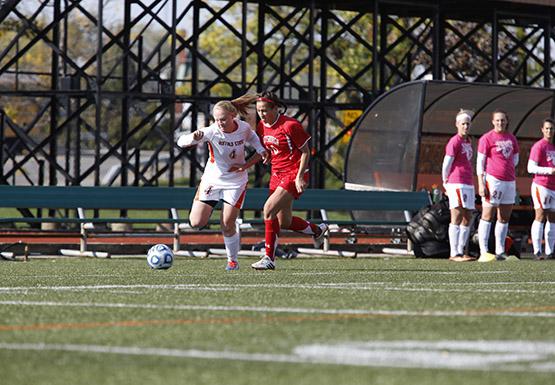 At the end of a beautiful day, the Buffalo State Women's Soccer team faced the Nazareth Golden Flyers in a little footy on the pitch at Coyer Field Wednesday night. The young Buffalo State squad hurt themselves due to some early miscues and Golden Flyers swooped into Buffalo and took a 3-1 win back home.
Buffalo State head coach Nick DeMarsh was frustrated after the game as the Bengals were their own worst enemy.
"The first two goals were pretty much self-inflicted," DeMarsh said.
During the 13th minute, Golden Flyers' Kate Billington crossed the ball into the box from about 55 yards out in hopes to ignite a chance. Bengals senior goalkeeper Nicole Torres misjudged the ball and came out of her line. The ball bounced in front of Torres as she became flat footed and watched the ball bounce over her head and enter the net.
About 20 minutes later, Nazareth's Elizabeth Guidi found a loose ball and scorched one home from about 20 yards out past the diving Bengals sophomore goalkeeper Taylor Carillo, who replaced Torres about 10 minutes earlier.
"It was a missed clear," DeMarsh said.
Into the half, the Bengals trailed 2-0.
The Bengals continued to struggle in the second half, but never gave up their will to try to cut the deficit in half. Unfortunately, the deficit became wider before it became slimmer.
Golden Flyers' Nicole Petocchi was able to break away and go one-on-one with Carillo. Petocchi's initial save was blocked by Carillo, but the rebound went back to the feet of Petocchi who capitalized on her second opportunity.
In the 78th minute, Buffalo State showed a bit of life as freshman midfielder Kyndal Hetzel netted a golaso from about 24 yards away, tucking it into the top left corner for her first career collegiate goal.
However, it was too little too late.
Even though the scoreboard did not favor them, the Bengals still saw improvement Wednesday night.
"Honestly, we've been getting better and better every day, we're a young team," Bengals senior captain defender Breanna Knight said.
Up next for the Bengals (1-3-1) are the Union College Dutchwomen (2-1-1) who will travel from Schenectady, New York to Coyer Field for a 2 p.m. kickoff on Saturday.
Leave a Comment