So-so start to season continues for volleyball
Bengals beat Rochester at home, then go 2-2 at weekend tourney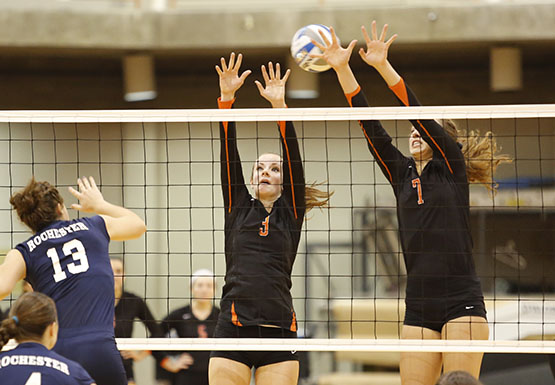 The Buffalo State volleyball team played five matches last week, beating Rochester on Wednesday in the home opener in a hot and muggy Sports Arena and splitting four matches over the weekend at the Allegheny Gator Invitational in Meadville, Pa.
Buffalo State beat Rochester in four games, 25-19, 25-16, 24-26 and 25-15. Sophomore middle hitter Kayla Pyc had 11 kills in the win, while senior outside hitter Sarah Horvath added 19 digs.
Senior setter Kelsey Bashore said her team was excited before the home opener, but did well to stay calm, cool and collected — even though the gym was like a hot box. There was a high temperature of 88 degrees that day, and it felt even hotter in the Sports Arena.
"It was extremely hot," Bashore said. "The floor was sweaty, and we were slipping everywhere. It was very, very hot. We were sweating before warm-ups started. It was really hard to play in."
Bashore finished the game with 40 assists and 16 digs to help Buffalo State to its fourth straight win. Heading into the Allegheny Gator Invitational over the weekend, the Bengals appeared to have some momentum, and were favorites to win the tournament. Of the four teams they played, none had a winning record.
But they dropped the first match on Friday to Bluffton, 21-25, 25-17, 21-25 and 22-25. In each of the three tournaments so far this season, the Bengals have lost the opening match.
"That's our main weakness," coach Maria DePeters said. "The girls need to come in ready to play on Fridays. I don't know if it's because they're not getting enough sleep or because they're going to class so they're tired or whatever, but they've got to find a way to motivate themselves for that first match of the day."
In the second match on Friday, the Bengals appeared to have found their form, jumping out to a two-game lead against Albion, 25-19 and 25-13. But Buffalo State lost the last three sets, 18-25, 18-25 and 13-15.
Horvath said sloppy play sunk the Bengals in those final three sets.
"We just didn't take care of the ball on our side of the court," she said. "At that point it didn't really matter if we were playing (against) a great team or an average team because we just couldn't do anything on our own side. We weren't creating opportunities for ourselves to win."
Finishing matches has been an issue for the Bengals all season. Against Capital earlier this season, Buffalo State blew a 2-0 lead, and they have lost all three of their matches that have reached five sets.
"The girls were really upset that they lost to Bluffton," DePeters said. "They came out strong in those first two sets and then had problems finishing the game. We have to win three out of five, not two out of five. Obviously we learned our lesson from that the following day when we beat both teams in three."
On Saturday, the Bengals crushed a winless Thiel squad, 25-22, 25-15 and 25-18, and then beat host Allegheny by the exact same score, emerging from the tournament with a 2-2 record.
At this point in the season last year, the Bengals were 11-2. Now, they're 7-6, despite returning almost every player from last year's team.
DePeters said the Bengals have faced tougher competition this year, citing the season-opening tournament at Cortland, where the Bengals played two nationally ranked opponents and one that received votes in the national poll. They lost all three of those matches.
"That was three losses right off the bat, against top national teams," DePeters said. "There are a lot of different learning experiences this year than there were last year. Last year there were a lot of new people on the court so they had to work extra hard. Now, I think sometimes the girls are getting a little satisfied or not pushing themselves as consistently as they were last season."
"I think the girls are really seeing now how hard it is to win every point, win every set, and win a match," she added. "I think they're starting to get that down."
The Bengals play Medaille in the Sports Arena on Tuesday at 7 p.m.
Leif Reigstad can be reached by email at [email protected] or on Twitter @LeifReigstad.
Leave a Comment