Quick Hits: Women's Volleyball falls to St. John Fisher, 3-1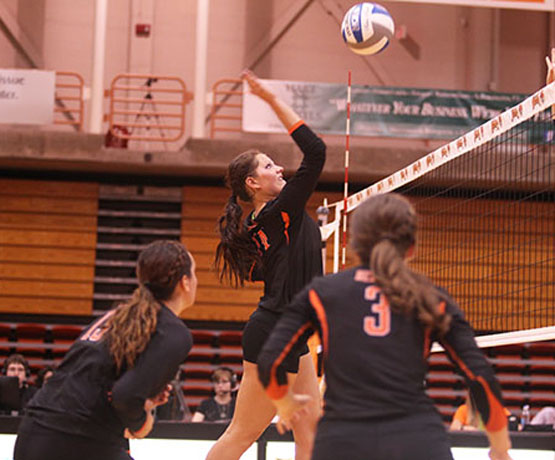 A sloppy third set was ultimately the deciding factor for the Bengals.
In a rematch against their season opening opponent, the Buffalo State Women's volleyball team could not avenge their early season loss as they were defeated by the visiting St. John Fisher Cardinals, 3-1 on Wednesday night.
Middle Hitter Lauren Hansen tried to keep the Bengals in it with her 13 total points and 7 digs.
Buffalo State was able to steal the first set away from the Cardinals 25-20, but would then concede the final three sets, getting closest to taking another victory in the fourth and final set losing, 25-22.
Finally done playing in the Houston Gym: Due to construction on the Sports Arena at Buffalo State, the Women's volleyball team was forced to play their home games in the Houston Gym. With construction now looking to be completed later this week, the Bengals will return to their permanent home court in the Sports Arena. Buffalo State struggled at home this season going 1-4 in five matches.
End of dominance held over the Cardinals: Heading into the 2017 season Buffalo State had defeated the Cardinals seven straight times. St. John Fisher's last victory before this season came in 2011. Now, Buffalo State is winless in their last two match-ups against the Cardinals.
Two teams, two different directions: Buffalo State is struggling with a 5-17 overall record (1-5 SUNYAC), and St. John Fisher has found success posting a 18-5 overall record (5-1 EMPIRE 8).
Up Next: Buffalo State will host SUNYAC opponent Cortland Friday at 5 p.m. in the Bengals' first game in the newly renovated Sports Arena.
Leave a Comment