Student entrepreneurs reach out to immigrant community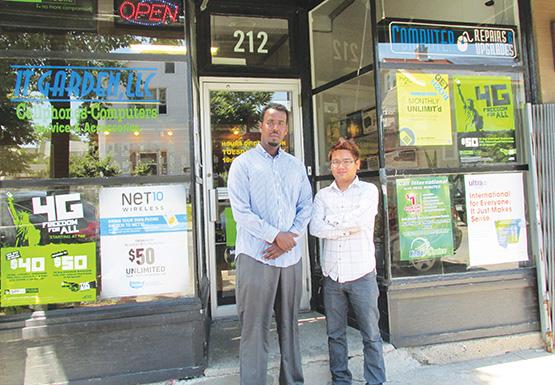 Students' technology troubles can now be taken care of by the professionals, who may be sitting right next to them in class.
Aung Kaung Myat and Mustafa Abdo, both seniors at Buffalo State, celebrated the grand opening of their new business, IT Garden, LLC, on June 8. The business, located at 212 Grant St., features a variety of computer and phone support services and products.
Myat came to the United States five years ago, from Burma, and Abdo came to the country six years ago, from Singapore. Though they're from different parts of the world, they're both committed to helping the population right here in Buffalo.
"We have relationships here and we feel like we know everyone," Abdo said.
Myat and Abdo first attended Erie Community College together, where they decided they needed to start a technology business in the area. Both then enrolled at Buffalo State, where they decided it was the right time to open their own business.
"Small businesses are the backbone of the community, and we're here to help," Abdo said.
For three months, Myat attended entrepreneurial classes at the Buffalo Adult Learning Center on Virginia Street, where he was taught the basics of entrepreneurship and owning a small business. Abdo also did his part and began researching the technology market.
"I created the plan, and Mustafa implemented it," Myat said.
Once they had the business plan, they also had help from Bonnie Smith, economic development director of the Westminster Economic Development Initiative, and Buffalo State Community Academic Center Director Meg Dee.
The pair then started the process of looking for a new space for their business to operate out of. They chose the location on Grant Street because of its central location in the community and the demographic of their market, and both agreed that the space was right for them.
Myat and Abdo are selling technology products for affordable prices and also offer a number of cellphone and computer services, from software installation and support to troubleshooting and switching individual's phone carriers for them.
"We're not just selling, we're also doing repairs," Myat said.
With the business up-and-running, Myat and Abdo are busy selling and fixing technological devices, and they're also working with the immigrant and refugee population in the area. They have previous experience helping the community and now have their own space where they can do more.
"We'd like to have a place where people can come in and we'll help them as much as we can," Myat said. "We'll assist people with language barriers dealing with their letters, bills and prescriptions, and we'll help them on their behalf."
The business partners agree that IT Garden isn't just about making profit, it's about helping people.
"People leave with a smile after we help them, and we're not going to forget them," Abdo said. "You can't just get that with sales."
The owners know that they can be of great assistance to the diverse population on Grant Street, which sometimes faces a language barrier. Both men come from immigrant or refugee backgrounds, so they know what the population needs and they believe that they can help people in a more efficient way.
"We're helping the diverse community on the West Side," Abdo said. "People need help and translation. People come in and don't know what to do with papers, etc. We help them and make phone calls."
Together, Myat and Abdo speak seven languages: Arabic, Burmese, English, Malaysian, Nepali, Somali and Thai.
"Our customers — the immigrants, refugees and local people — can have in mind that we give customer service in their own language," Myat said.
For now, the working partners are building their business and system, ordering new merchandise based off customer demand, improving their marketing, expanding services, developing their website and redesigning flyers, trying to reach a broader consumer audience.
Myat and Abdo hope that the IT Garden will stand out from the crowd and attract more customers to the Grant Street area, which Abdo says is improving economically.
"Things are going a better way," Abdo said. "Things look good right now."
Colleen Young can be reached by email at [email protected].
Leave a Comment