Volleyball splits pair, moves to 10-7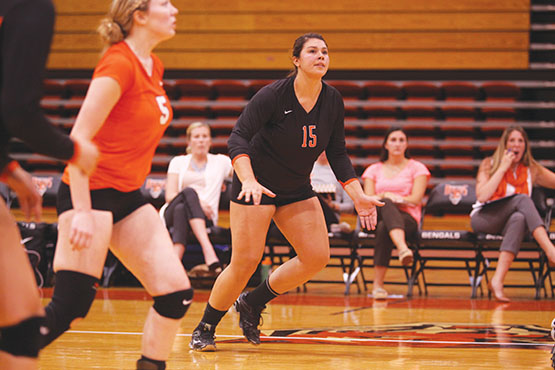 Volleyball is a game of runs. When a match begins, despite the overall record of each respective team, anyone has a chance to walk away with a win.
The Buffalo State women's volleyball team participated in its first round of SUNYAC pool play and experienced what the concept of any given weekend really meant.
Buffalo State (10-7, 1-2) was stunned when it dropped a four-set match to host school Oswego (10-10, 2-1), but then rebounded in a big way when it upset SUNYAC power Geneseo (15-3, 2-1) in four sets to end the first round of pool play.
In the first match the Bengals jumped out in front, winning the opening set 25-21, but an Oswego rally saw the Bengals drop the next three sets, 25-21, 25-22 and 25-23, respectively.
Bengal head coach Maria DePeters acknowledged the slow start.
"The first match was littered with inconsistency, I don't think we were focused and I don't think we wanted to win," DePeters said, "It really showed against Oswego."
The match was plagued with unforced errors by Buffalo State, who posted an attack percentage of 13 percent, with 30 hitting errors and ten service errors. Sam Parente and Kayla Pyc led the Bengals offensively, posting 13 and 12 kills respectively. Jennifer Ceccehettini pitched in with a career-high 42 assists in the game.
"We had to go out there and play Buffalo State Volleyball and we didn't that first game," DePeters said, "Our mental preparation was off."
The second match of the weekend, however, proved to be a completely different story for the Bengals, who after dropping set one 22-25, rallied back to rip off three straight wins, 25-22, 25-23 and 25-21.
The offensive efficiency in game two was much improved for the Bengals, who posted a 21.5 kill percent nearly eight and a half percentage points better than the previous game. They also poured in 13 blocks in the winning effort.
This win dealt Geneseo its first league loss of the season (15-3,2-1)
"We huddled up and we told ourselves that we were not going home without this win," said Parente, the team's captain. "We had to show ourselves we could do anything when we play together and we went out and did it."
The story of the weekend for the Bengals was the play of first year starting setter Cecchettini who posted a career-high in assists in game one with 42, only to match that total in game two, giving her 84 on the weekend.
"It makes you pretty nervous honestly," Cecchettini said on the new role "but my teammates and coaches have been they're supporting me and helping me all along, so I owe my accomplishments all to them."
It is back to the drawing board for the Bengals, as coming back from falling to 1-2 in SUNYAC competition is tough, but there is potential for great things for the Bengals if they can get it all together.
"It starts in practice, we need to have more ball control and put more pressure on ourselves," DePeters said. "I can only hope the girls get better, but for that to happen, they have to want to get better."
The Bengals are preparing to hit the road this coming weekend to compete against four non-league opponents at the Blue Devil Invitational in Fredonia, NY.
"I see so much potential in this team," Parente said. "We just have to come together and turn it on for a great end to the season."
Email: [email protected]