Bengals win opener in OT stunner
Pair of Montana field goals wins it for Buffalo State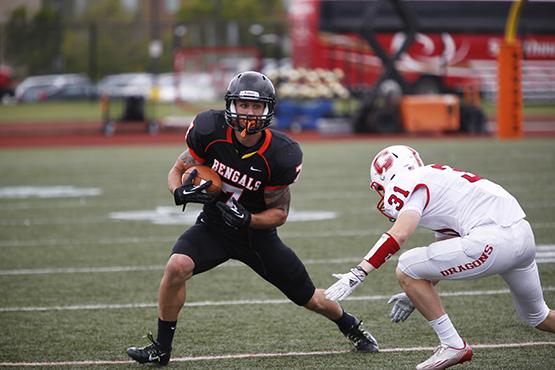 Dan Almasi, Associate Sports Editor
September 12, 2014
SUNY Buffalo State hosted SUNY Cortland to open the 2014 football season in a matchup that ended in one of the most exciting finishes in program history.
A game-changing mistake by the Cortland special teams unit allowed Buffalo State to win its season-opener, 51-48, Saturday afternoon at Coyer Field.
With six seconds left on the clock and a 48-45 lead, Cortland lined up in punt formation on fourth and six. The punter took the snap, but instead of punting, ran sideways as long as he could, and slid down at the 32-yard line. The final buzzers rang, and the scoreboard displayed zero seconds. Cortland rushed onto the field to celebrate what seemed to be a win, only to be met by the waving arms and blowing whistles of the referees.
A referee raised one finger to signal that one second was officially left in the game. Buffalo State had called a timeout immediately after the punter slid to the ground, giving them one final play in regulation. Set up by a 22-yard loss on the prior play, Buffalo State's field-goal unit came onto the field and kicker Marc Montana lined up for what would be a school record 49-yard kick.
Despite missing a 43-yarder earlier in the game, Montana made the kick, broke the school record and brought the home opener into overtime.
Cortland started with the ball in overtime, but junior defensive back Mitch Thomas came up with a huge interception to give the Bengals the ball and the opportunity to secure a win. Following the interception, three rushing plays set Montana up for a potential game-winning 34-yard kick. Montana split the uprights to give Buffalo State the win and stun Cortland in overtime.
Montana was unaware that the 49-yard kick that sent the game into overtime set a new school record until after the game.
"How many times do you think about this when you're a kid? It's something special," Montana said. "Everyone did their part. The whole team won it. We deserve this win today."
Head coach Jerry Boyes said going for the 49-yard field goal was, in his mind, the only option.
"I didn't even think twice about it, because of Marc Montana," Boyes said.
The finish was not the only exciting aspect of the game, as both team's offenses were on full display throughout the game, totaling for 1,094 yards and 99 points.
Sophomore quarterback Kyle Hoppy finished 18 of 33, passing for 335 yards and two touchdowns in his first start. He also rushed 23 times for 90 yards and a score. Senior running back Rich Pete gained 103 yards on 26 carries, and also scored. Hoppy, who took over for the graduated Casey Kacz, took his first step into his collegiate career.
"At first you've got to work some kinks out," Hoppy said. "We started slow, but I still sensed that the team believed in me. We've been building [chemistry] throughout training camp. I knew I had to go out there and perform."
Senior wide receiver and kick returner Mike Doherty was impressed with the sophomore quarterback in his first start.
"He really stepped up," Doherty said. "For his first game, he was great. He's in sync with all the receivers. He has this offense going in the right direction."
Doherty finished with 419 all-purpose yards. He tallied nine catches for 229 yards and two touchdowns, just 37 yards short of a school record. Senior Ryan Carney had three catches for 60 yards and a pair of touchdowns. Hoppy said he felt he was helped by the play of his sure-handed receivers.
"With receivers like that, it doesn't take much for them to get open," Hoppy said. "I've just got to get the ball in the area for them to catch it."
Junior defensive back Marquis Artis led the Bengals' defense with 14 tackles and a forced fumble. Sophomore defensive back Will Cheshire tallied 11 tackles and posted an interception, while junior linebacker Shaq Fredrick recovered the fumble forced by Artis and had 11 stops.  Junior defensive back Mitch Thomas had an overtime interception, and a blocked extra point, both critical plays for the Bengals.
Cortland quarterback John Grassi set a school record with 487 yards through the air. He tossed three touchdown passes, while going 35 of 54 with two interceptions. Jack Delahaunty was their top receiver, gaining 103 yards on six catches and scoring once. Troy Deddoe and Matt Ambrose led Cortland's defense with 11 tackles each.
Cortland marched down the field on its first possession, but the Bengals defense stopped them at the two-yard line and forced an 18-yard Shane Cronin field goal.
Following the field goal, Cortland attempted an unexpected and unsuccessful onside kick and Buffalo State took over with good position on the Cortland 48-yard line. The Bengals failed to capitalize on the field position, though, and turned the ball over on fourth and one after a Rich Pete run was stopped at the line of scrimmage.
The following drive ended in another Cronin field goal, a 32-yarder that gave Cortland a 6-0 lead. A 48-yard kickoff return by Mike Doherty gave Buffalo State a start in Cortland's end of the field for the second time in a row. Despite being given a short field, Hoppy and the Bengals again failed to get anything going on offense and again turned the ball over on downs, this time on an incomplete pass on fourth and seven.
After the following two drives ended in punts by each team respectively, Cortland capped off a seven play, 59-yard drive with a five-yard Dylan Peebles rushing touchdown and executed a two-point conversion pass to Jon Mannix. Cortland would go into the second quarter with a 14-0 lead.
Another unsuccessful onside kick attempt gave the Bengals a 42-yard field. 10 plays later, the Bengals were on the board after a two-yard touchdown run by Pete.
Buffalo State tied the game, 14-14, on their next possession when Hoppy hit Doherty in stride up the left sideline for a 67-yard touchdown. Cortland answered right back though, as running back Layton Lassiter caught a short pass, spun out of a tackle around the 40, and took it all the way to the end zone for a 77-yard score. Buffalo State answered with a 35-yard Montana field goal that made the score 21-17, Cortland, going into the second half.
The contest became a back-and forth scoring affair once the second half began, starting with a 32-yard touchdown catch by Carney that put Buffalo State up 24-21, giving them their first lead of the game just over two minutes into the second half.
Delahaunty hauled in an 18-yard Grassi pass to make it 27-24, Cortland. Thomas blocked the ensuing point-after attempt to keep the game within three, which later proved to be a game-changing play.
Buffalo State reclaimed the lead after Hoppy scrambled out of the pocket, found an open lane to the left side and took it 32 yards untouched for the score.  The first turnover of the game came on a Will Cheshire interception that gave Buffalo State the ball back on the Cortland 43.
"I just read my keys and did what I do in practice," Cheshire said. "On the interception, before the snap, he looked right there. I knew he was throwing it there."
After the pick, a 30-yard Pete run set up a 15-yard Hoppy to Carney touchdown pass, the game's second touchdown connection between the two, to put Buffalo State up 38-27 with 8:09 left in the third quarter.
A two-yard touchdown run by Lassiter for Cortland, a 20-yard Doherty touchdown catch, and a 37-yard touchdown pass caught by Josh Smith of Cortland made the score 45-41, Buffalo State on top, going into the fourth quarter. Peebles then capped off a nine play, 52-yard Cortland drive from the five-yard line with his second rushing touchdown of the game to give Cortland a 48-45 lead with 9:38 left in regulation.
With 2:32 left in the game, the Bengals defense forced a Cortland punt. The punt hit a Buffalo State player who was blocking downfield in the back, and Cortland jumped on the ball to regain possession. Cortland unsuccessfully attempted to run the clock out on the next three plays with rushes, followed by the aforementioned exciting finish.
Boyes commented on the injury risk involved when a starting quarterback runs with the ball 23 times in a game.
"It's in the back of my mind, but we're playing football, and he's such a good athlete, he's going to make sure he doesn't take a big hit," he said.
Boyes was happy with his team's overall performance, but did point out some things he wants to improve upon going forward.
"We had two bad turnovers back-to-back," Boyes said. "That gave [Cortland] life, and they took the lead on the second one. We had a couple of execution errors, if we clean them up, then I think we've got a pretty good team. This is an old cliché, but I say it every week – there was some good, there was some bad, and there was some ugly, we've just got to take care of the ugly."
Buffalo State will travel to Manchester University in Indiana for another non-conference matchup this Saturday.