Becker, Holmes lead Bengals in SUNYAC championships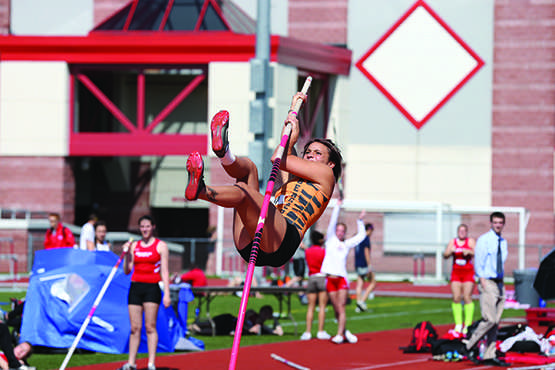 Sasa Vann, Nia Holmes and the 4×400 women's relay team all claimed conference titles and led the Buffalo State women's outdoor track and field team to a second place finish at the SUNYAC Championships at Geneseo on Friday and Saturday, while Rich Pete and Austin Becker helped the men's team place fourth overall with their SUNYAC–best performances.
Vann placed first in the 400-meter dash with a time of 57.66 seconds. She also set a program and track record in the prelims by clocking 56.89 seconds in the event, the 11th best time in Division III this season.
Holmes' time of 1:03.49 in the 400-meter hurdles was good for a SUNYAC title and was the 19th fastest time recorded in Division III this season.
Vann and Holmes were also on the 4×400-meter relay team with Tara Murphy and Jazlyn Porter that clocked a first place time of 3:55.17.
Three Bengals placed second in their respective events. Porter was the runner-up in the 400-meter dash (57.75), and also placed fourth in the long jump (5.28m) and sixth in the 200-meter dash (25.76). Heather Becker cleared 3.25 meters in the pole vault, breaking her own school record and tying for second. Seland Chaplin finished second in the high jump (1.63m) and sixth in the triple jump (10.65m).
Holmes, Jazmine Herbert, Shuntone Pricher, and Naisha Houpe collaborated to clock a second-place time of 48.20 seconds in the 4×100-meter relay.
Vann's eighth place finish in the final event, the 200-meter dash, pushed Buffalo State past Brockport into second place.
Buffalo State's 120 points was second only to Cortland, which took the 2014 women's SUNYAC outdoor track title for the fourth consecutive year, dominating the field with 168 total points.
Rich Pete claimed an individual SUNYAC men's title with long jump of 7.05 meters and also finished fourth in the triple jump with a 13.79-meter leap.
Despite his SUNYAC title, Pete is still looking for ways to improve and get better.
"I feel (that) I excelled in some areas and that there are some areas I could've done better in," Pete said of his performance. "There are still some things I can work on. Thankfully I have teammates that can step up when needed."
Austin Becker took the title in the 800-meter run, clocking in at 1:55.07.
Five Bengals and one relay team finished as the runner-up in their respective events. Cory Cox placed second in the long jump with 7.01 meters, and fourth in both the 100 and 200-meter dash. He also placed eighth in the triple jump with a 13.09-meter leap. Cox joined Hamza Abdush-Shahid, Travis DeMuth, and Todd Colas on the 4×100 meter relay team that placed second with a time of 42.41 seconds.
Cox, who said he was dealing with several minor injuries, made no excuses for himself despite the inconvenience.
"(The injuries) affected me a little during my races and jumps but it wasn't the main problem," Cox said. "I don't like to make injury excuses when I know I could've done better despite the recent issues with my body."
Bumkoth Jiak and Alex Ngabo paralleled each other's performances in the 800 and 1500-meter run, with Jiak placing second in the 800-meter (1:55.36) and eighth in the 1500-meter (4:03.73), and Ngabo placing second in the 1500-meter (3:57.87) and eighth in the 800-meter (2:13.88).
Dajon Dixon's second-place efforts in the high jump (1.88 meters) and 110-meter hurdles (15.07), and Ray Richardson's runner-up performance in the triple jump (14.47 meters) also helped the Bengals' cause.
Oneonta claimed the men's SUNYAC outdoor track and field title for the first time in the history of the program with 173 points, over second-place Cortland (163.5) and third place Brockport (134), which topped Buffalo State by five points.
Strengths in different areas helped both the men's and women's teams to solid overall performances.
"Our sprints and hurdles group contributed the most points," Dimit said of the women's team. "We also had personal bests in a number of areas including jumps and distance to tie our highest finish in the outdoor championships."
"The jumps and middle distance were our largest scoring event groups," Dimit said of the men's performance. "But it was a team effort to finish in the top half of the conference."
Dimit compared the high expectations of the coaching staff to the results.
"We expect our athletes to compete at their highest level this time of year," Dimit said. "There were a number of season best performances and conference champions that we're proud of."
Cox felt The Bengals put forth everything they had.
"Overall, our team did great," Cox said. "We all battled to the best of our ability."
Email: [email protected]
Leave a Comment