Bengals endure eight game stretch to qualify for SUNYAC playoffs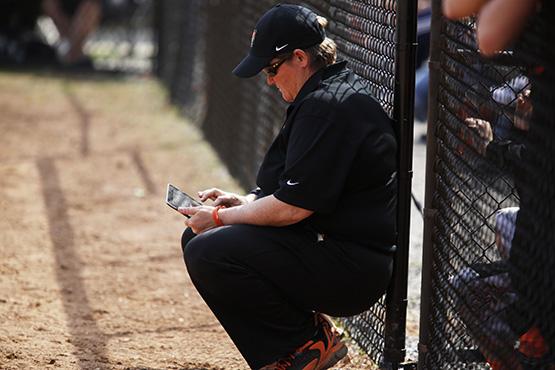 Weather forced Buffalo State softball to play eight road games in five days. With the regular season coming to a close, Buffalo State was able to finish the road trip 5-3, sweeping Rochester Institute of Technology on Thursday, losing a pair at Oneonta on Friday, sweeping New Paltz on Saturday and splitting with Brockport on Monday.
"I'm really proud of them," Curran said. "We had [a] losing weekend against Cortland, Oswego and they rebounded well, having to play six games in three days and it was big for us to get back on the road and let us focus on softball. The professors have been wonderful at Buff State this year with realizing the rain and all the things the girls are trying to work through…"
On Monday Buffalo State split a pair with Brockport, winning game one, 3-2 and losing game two, 2-1. In game one, Rennard singled to left field to score Kate Brownell in the eighth inning, which proved to be the game-winner. Buffalo State outhit Brockport 10 to 3, led by Novo, Gorski and Maggard who each went 2-for-4.
In game two, Brockport used a fourth inning home run by Andrea Schell to take a 3-2 lead salvage the nightcap of the doubleheader. Buffalo State had five hits, with three coming from Jean Stahl, who went 3-for-3.
Buffalo State swept R.I.T. in a non-conference doubleheader, winning game one, 7-5 and winning game two, 7-2. The Bengals pounded out eleven hits, led by Bardak, who went 3-for-4 with an RBI and two runs scored. Novo, Gorski, and Jordan Dudish each had multi-hit games.
R.I.T. opened the game with four first inning runs off Buffalo State starting pitcher Jordan Sarat. Sarat settled down to pitch four scoreless innings, before giving the ball to Sam Tilkins, who earned the win in relief, allowing one run in two innings of work.
Buffalo State took game two, 7-2. Coneys, Allison Novak and Tilkins combined to pitch a five-hitter to silence R.I.T.'s bats. Taylor Swiatek led Buffalo State at the plate, going 2-for-4 with two RBIs. Novo also went 2-for-4, adding an RBI and a run scored.
After the pair of non-conference games, Buffalo State headed to Oneonta (25-9, 15-3 conference), the top-team in the SUNYAC standings. Buffalo State fell in game one, 2-0 and in game two, 6-1, on Friday.
"That was a tough loss for us," Maggard said. "We had an ample of opportunities to get hits and get girls in, but we couldn't capitalize on that. We have to take that game as a grain of salt, and both games really, and now we know we're going to beat them when it matters…"
In game one, Buffalo State couldn't solve Oneonta pitcher Sabrina DeAngelis, who threw a complete game shutout, allowing just two hits. DeAngelis, leads the SUNYAC with a 14-5 record and a sparkling 0.95 ERA. Batters are hitting just .223 against the freshman right-hander.
"She has a nice up-pitch, "Curran said of DeAngelis. "I don't know if it's necessarily a real rise ball, but she throws a hard up-pitch and really good changeups, so she keeps you off balance."
In game two, Buffalo State had to deal with DeAngelis again and finally solved her when Bardak hit a double to plate Novo. However, Oneonta scored six unanswered runs to pull away for the 6-1 victory.
The Bengals then traveled to New Paltz on Saturday and clinched a playoff berth with a sweep of the Hawks. Buffalo State took game one, 9-1 and game two, 3-2 in 10 innings. In game one, the Bengals batted through the order and scoring five runs in the top of the first.
"That's just the mentality that we had that day," Maggard said. "We should have that every day. We were ready to go right from the first hit. I think Steph (Novo) led off with a double. We started feeding off each other –one person gets a hit and next thing you know, we're at the ninth batter…"
Buffalo State finished with nine hits and Carly Knight powered the offense, going 2-for-3 with three RBIs. Gorski had a multi-hit game as well, finishing 2-for-3 with three runs scored.
In game two, runs didn't come easy for either team. It took 10 innings, but Buffalo State was able to win it when Maggard singled home Clarke in the tenth inning that proved to be the game-winner
"We had a little bit more pressure on us against New Paltz,"Curran said. "The girls did a great job, especially to hang in there in the 10 innings and as soon as we had an opportunity, we seized it and took advantage of it."
New Paltz pitcher Katie Rutcofsky pitched all 10 innings and only allowed six hits. The Bengals left seven runners on base, and were shutout for eight consecutive innings before Maggard's RBI single in the tenth inning.
"It felt good," Maggard said, "we had opportunities that we should have capitalized on, so the game definitely went on longer than it should have. It felt good to finally end it."
After being held to six runs or fewer in five straight games, Buffalo State found its offensive success again, scoring seven or more runs in three of their six games over the weekend.
"To be honest, it was nice to see the ball fall in holes again," Curran said. "I think the little wall we went into in the middle [of the season], the kids didn't really pay enough attention to that, we were hitting the ball really hard, we weren't striking out, we were doing all good things, we just hit the ball at people and they made plays against us. It was nice to have balls fall in again, and us hit the past people. You could just see the girl's confidence come back."
Buffalo State finished the regular season 18-14 overall and 10-8 in SUNYAC play.
Leave a Comment