New hotel on Elmwood could force local businesses to relocate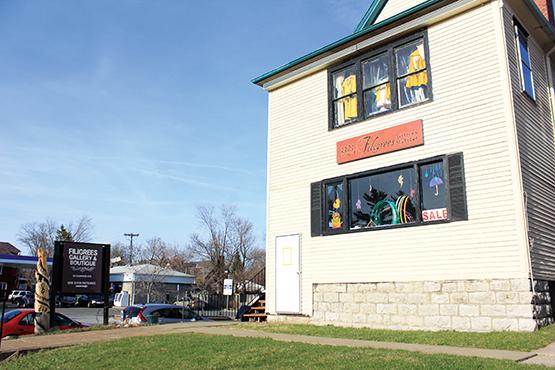 The southeast corner of Elmwood and Forest Avenues, also known as the gateway to the Elmwood Village, may soon be the home to a hotel project.
John Michalek, a state Supreme Court justice, ruled in favor of Chason Affinity Companies to continue with a hotel project that has been in the works since 2009. The 1982 deed covenants that were affecting the continuation of the project were deemed no longer applicable since the property had already been rented out for commercial use in previous years.
The hotel project is planned to include up to around 150 residential units and hotel rooms. The project would also include restaurants, retail stores and more readily available parking. Some of the businesses that might be forced to move in order to complete the hotel project would be Filigrees Gallery and Boutique, Madd Tattoo and Allentown Music.
According to WGRZ, Mark Chason, the president of Chason Affinity Companies, said that construction would probably take around 15 to 18 months to complete. But before that, it would probably take a year until everything would be ready to begin construction.
Melissa Campbell, the owner of Filigrees Gallery and Boutique, said that she thinks the hotel project will be a really good improvement for the Elmwood Village. She said that the hotel would help a lot with parking and having a place for tourists to stay.
"The best thing about the whole project is the parking spots, the 160 parking spots," Campbell said. "Elmwood village has really grown up and I think that they can really do a little more upscale."
Campbell said that after the construction of the hotel, she would be invited back to open one of the available slots in the hotel. However, she said she wants to keep her options open.
"My wish would be to do like a food truck sort of mobile art gallery, that would be my dream," Campbell said. "I'd like to pursue other areas. I think what I have to bring, I can set up shop and be culturally rich anywhere that I go, so Elmwood Village will miss me, but not Buffalo."
Mark Madden, the owner of Madd Tattoo on Elmwood Avenue said that he doesn't think the gateway to the Elmwood Village needs a hotel. He said that news of the approval didn't come as a shock because he had already known it was going to happen.
Madden also owns Madd Tiki Tattoo located on Hertel Avenue and Madd Loco Tattoo located on Niagara Street. He said that hopefully students at Buffalo State would follow him to his other locations if the hotel project happens.
"Us losing that stuff [the space where his business resides] is going to be tough on me in a number of different ways," Madden said. "I love Elmwood Village. Hopefully we'll roll with the punches."
Madden said he is going to miss being able to provide Buffalo State students with tattoos. He said that realistically once the new hotel is constructed, there might not be a place that suits what he needs in order to run his business.
"If it's the right spot for the right place I will take it," Madden said. "I have thought about taking Elmwood and go further, but if I go further then that's stepping on other people's feet and I don't want to do that. It's going be a huge change."
Owner of Allentown Music, Joe Maniaci, said that he knew moving into the space that he might eventually have to move because of the hotel project. He said that about seven and a half years ago, he moved in knowing his spot was temporary because of the hotel project, which was then being handled by a different company.
"It could go either way. This block doesn't really need revitalization or redevelopment because it's already thriving," Maniaci said. "This block here has done well for years. As far as will it help the neighborhood, it could."
Maniaci said he believes that a lot of the businesses that will be across from the hotel like Mister Goodbar and Cole's will probably thrive. Some of his concerns over the project were the retail stores that the hotel might feature.
"How high are the rents going to be?" Maniaci said. "Are local businesses going to be able to afford them like myself or are they going to bring all national chains in like Starbucks and whatever that can pay high rent?"
Arthur Giacalone will be the attorney for the property owners who hope to appeal the decision that the deed restrictions no longer apply to the property. According to WGRZ, Giacalone needs to file an appeal within 30 days and then organize and submit all his paperwork within 60 days after that.
Email: [email protected]
Leave a Comment