Women's basketball blows out RIT, remains perfect to start the season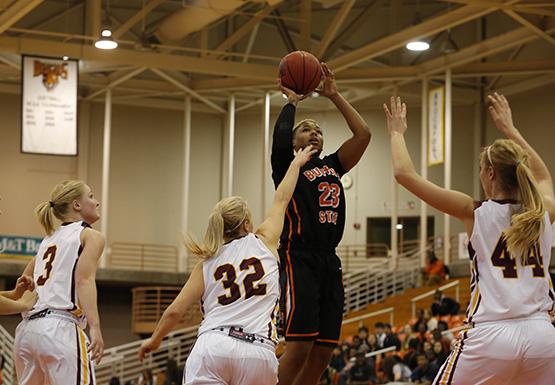 Buffalo State forward Staci McElroy has had quite the start to her basketball season.
Last week, McElroy was the Betty Abgott Invitational MVP. This week, she netted a career-high 30 points to lead the Bengals past RIT in a 91-72 road victory Saturday.
McElroy hit 13-of-20 shots from the field and became the eighth player in school history to score 30 points in a game, and the first since 2004. McElroy said she was excited after the game, and that the play her team was running worked well, so they just kept running it.
"I think I just did a good job finishing," McElroy said. "I think I did well staying consistent in both halves. I knew (RIT was) a good team and I figured out what I had to do to score and help the team."
McElroy said that she wanted to step up and be a leader for her senior season. She said that she didn't want the scoring or the other team to get to her head. She was concerned with keeping the lead to get the win.
"She definitely had a size advantage," said head coach Sue Roarke. "She shot the ball extremely well, played really well and she was able to stay out of foul trouble because some of our starters fell into foul trouble pretty early."
The game started out with both teams trading buckets. With the score tied at 16, Buffalo State clicked and went on a 12-2 run. The Bengals led 40-25 at the half and never gave up the lead after that.
Buffalo State forwards Bianca Smiley and Ashley Wallace dominated down low, helping Buffalo State outscore RIT in the paint 34-18.
The Bengals shot 44 percent from the field, compared to RIT's 33 percent.
Olivia Luciani added 12 points and captain Kelly Kell had 11 points and was 11-of-13 from the free throw line.
It wasn't only the offense that came ready to play. The defense was a major part to the team's victory as well. Buffalo State was able to create points off of RIT's miscues, scoring 18 points off of turnovers.
Roarke said the game plan was to hold off RIT's best player, center Courtney Tennant, who had been averaging over 22 points a game. Buffalo State held her to only nine points on the day.
"One of our keys of the game was to shut her down defensively and I thought we did a nice job on that," Roarke said.
"I think pushing the ball and running in transition really gave us the edge in the game," Kell said. "We got into a groove and just kept doing what was working. We worked really hard and everyone contributed. I think this game showed how deep of a team we really are."
Email: [email protected]
Leave a Comment