All-American Smiley headlines talented senior core
Women's basketball has high expectations for the 2013-2014 season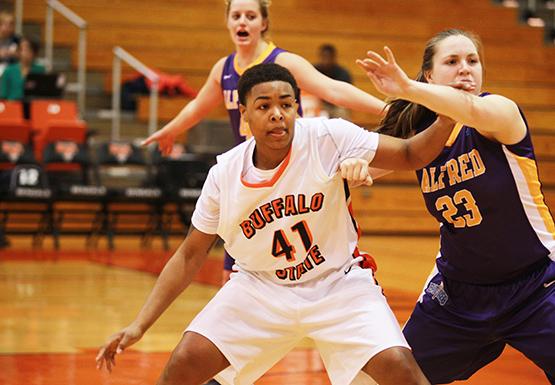 The Buffalo State women's basketball is relying on experience to lead it to success in 2013-14.
The Bengals return five key seniors who will guide the way for them, highlighted by forward Bianca Smiley.
Women's DIII News named Smiley a preseason honorable mention All-American. The forward led the team in scoring last season with 13.7 points per game and has also been named to the All-SUNYAC first team twice during her career.
Coach Sue Roarke said she expects Smiley to take a major leadership role this season.
Buffalo State finished its 2012-13 season with a record of 13-12 overall and a 9-9 record in SUNYAC play.
This season will be Roarke's eighth as head coach of the Bengals. She currently holds an 87-93 record, including four SUNYAC playoff berths.
With many older players on the team, Roarke said she expects a good season. She believes her squad can compete in a tough SUNYAC.
"I'm pretty excited about the squad that we have," Roarke said. "We are definitely optimistic because we have a lot of leadership this year."
In addition to Smiley, the Bengals will also be led by senior guards Kelly Kell, Mary Cain, Kala Crawford and Stacy McElroy.
Kell, who will serve as one of the team captains this season, will serve as the team's starting point guard. She was a playmaker last season, racking up over 100 assists and 30 steal. Kell believes Buffalo State has the potential to win a conference championship this season.
"I have really high expectations this year," Kell said. "I really think this is our year to take it all. We work hard every day and our goals are to get better with every practice."
McElroy will be back this season after taking the year off last season. McElroy is a three-time All-SUNYAC performer and was the ECAC Upstate Rookie of the Year in 2010. McElroy said she's also eager for the upcoming season to begin.
"I think we don't have a set starting five," McElroy said. "I think we have enough talented girls that we can start in almost any combination. Some of the younger girls can step up and play with confidence."
Buffalo State has other young talent that can help supplement the contributions it expects to get from the senior class. Other notable players are junior captain Ashley Wallace, junior guard Olivia Luciani and sophomore guard Mariah Norris.
Kell noted that Luciani is an unbelievable shooter, adding that she has great range and is a threat at the 3-point line
Then Bengals' first game is at 5 p.m. on Friday at the Sports Arena against Penn State-Harrisburg in the Betty Abgott Invitational.
"We hope to win the conference and beat the school record we tied two years ago," McElroy said. "We work well together, we talk well, we run well and we see the court well."
Email: [email protected]
Twitter: @cdierken
Leave a Comment