Rugby's season, streak ends in second round of playoffs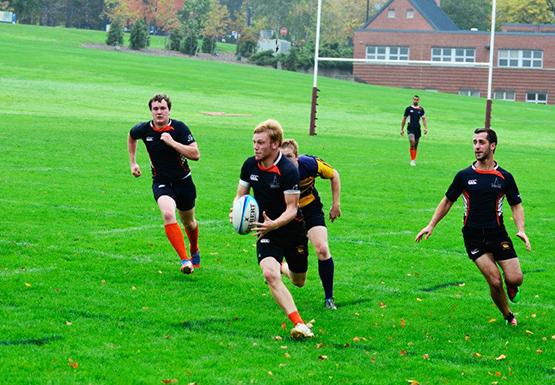 The Buffalo State men's club rugby team's eight-game win streak and season came to a screeching halt after the team suffered a 10-8 loss against Niagara University in the second round of the playoffs Saturday.
After going 7-0 during the regular season and beating Le Moyne in the first round of the playoffs last weekend, Buffalo State was ranked No. 6 in the nation among Division II college rugby teams before being shocked by Niagara. Buffalo State had beaten Niagara, 24-0, during the regular season.
Senior Sam Morrealle felt that Niagara corrected its mistakes and took away the advantages that Buffalo State had in the regular season meeting.
"We went in with the same game plan we had in the first game, and in any type of rematch situation the team who lost the first game has an advantage because they know what they did wrong and can adjust accordingly, and that's exactly what they did," Morrealle said.
Eight points was a season-low for Buffalo State. Senior captain Christian Feickert felt that being unable to capitalize in the opponent's end and some unfortunate penalties led to the lack of success on offense.
"Niagara came into this game very prepared to defend against our offense," Feickert said. "They really focused on stopping some of our key players. They fired up fast on defense and forced handling errors from our backs early and often.
"It was a very evenly matched game, but when we had the ball deep in their territory we didn't capitalize and instead we hurt ourselves with penalties."
"It's hard to pinpoint exactly what went wrong," said senior captain Jeremy Galante, who scored Buffalo State's lone try. "They did a great job at countering our game plan that worked well against them the first time we played them. They countered our kicks very well, which most teams fail to do. Our biggest failure was that we failed to capitalize when we had the opportunity to score. We came very close to scoring so many times but something always went wrong."
Despite the loss, the players are looking at the season as a success, and they know one loss doesn't take away from what they accomplished as a team.
"It was a really tough game to play in and there wasn't one player on that field who didn't give 110 percent," Feickert said. "This season was unbelievably fun and I'm glad I had the opportunity to lead this great group of guys to such success. I proudly call the members of Buffalo State rugby my brothers."
Morrealle echoed Feicker's sentiments, and said he has no regrets this season.
"One loss by two points doesn't erase eight wins, and I'm proud of this team and I know the seniors are leaving it in good hands for the coming years," Morrealle said.
"Both teams played their hearts out," Galante said. "Every player on that field gave it everything they had. It was a war and unfortunately we fell short of our ultimate goal but we have nothing to hang our heads for. I'm proud to have been a leader of this team and to contribute to the success and be a part of what we were able to accomplish."
Email: [email protected]
View Comments (1)