Club rugby remains undefeated, moves on in playoffs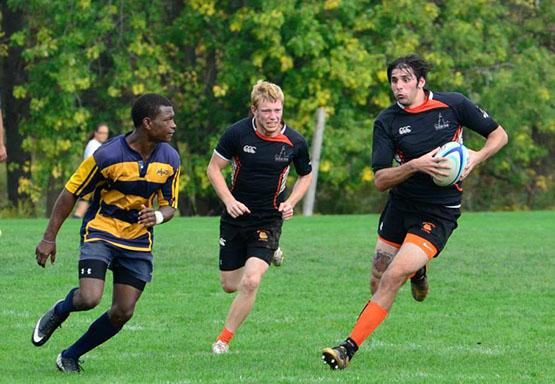 Prior to its game against Le Moyne on Saturday, the Buffalo State men's club rugby team gathered around head coach Rob Jenkinson for a pre-game speech.
After finishing the regular season undefeated, the team was staring its first playoff game in the face, as rain and sleet pelted the field and the players.
"There is nothing more important than the next few hours," Jenkinson said. "You're here, so clearly there's nothing more important to you.
"Here's what's going to happen: we're going to pin them in their own end whenever we get the opportunity, we're going to win our line outs, we're going to win our scrum. We're going to play our game, because where are we?"
"Our field," several players responded.
"That's right, we're at 1300 Elmwood Ave.," Jenkinson said. "This is a day made for Buffalo State rugby. It's about 40 degrees out and sleet is coming down sideways. The field is a muddy mess already, and the players are excited to tear it up even more."
Buffalo State used that motivation to cruise past Le Moyne, 35-3, and advance to the second round of the playoffs.
The game began with back-and-forth play. Buffalo State scored on a penalty kick to take a 3-0 lead. Captain Christian Feickert then scored the first try of the game and kicker Kyle Arena converted to give Buffalo State a 10-0 lead.
After Buffalo State committed a penalty in its own end, Le Moyne converted a penalty kick to make it 10-3.
From there on, Buffalo State gave Le Moyne very little room to work with and scored 25 unanswered points to win the game.
"Everyone played their heart out, we didn't let up, not for one second," Feickert said. "We kept driving them back, we kept the ball in their end, and that's why we kept scoring."
"We played a great game," senior captain Jeremy Galante said. "The conditions were tough and the game started out slow. We definitely underestimated them in the beginning, but after the start of the second half we really started pouring it on, played more aggressive and really took control of the game."
Buffalo State will play Niagara University in the semifinals of the playoffs this Saturday, a team it beat, 24-0, earlier this season. The game is supposed to be played at Buffalo State, but because of poor field conditions it may have to be played at Niagara.
"I'm excited to play them again," Feickert said. "We beat them last time so we know they're going to come out trying to avenge their loss. Hopefully we can use our ball handling skills and pop kicks to our advantage like we did last time to pull out another win."
"It's going to be a tougher game than it was a few weeks ago when we played them," Galante said. "Standings and points mean nothing here. Loser goes home."
Email: [email protected]
View Comments(1)