Volunteering in Detroit a lucky break for aspiring do-gooders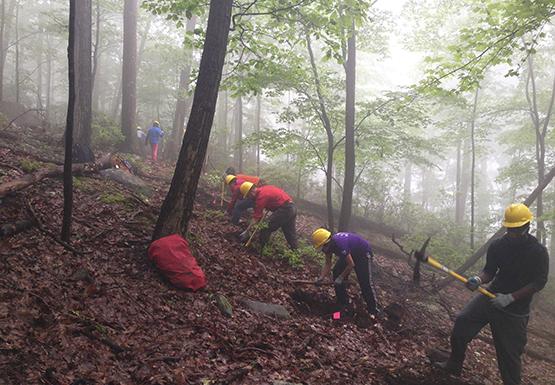 An eclectic group of students shuffled into Bacon Hall 204 in hopes of learning more about The Volunteer and Service Learning Center's next Alternative Break, from Dec. 13-18. This year's destination? Detroit, Michigan.
The Volunteer and Service Learning Center established their first alternative break in the spring of 2010, where students spend their break volunteering and serving a community in need.  Since then, they have succeeded in adding winter, summer, and recently, a fall alternative break during the Veterans Day long weekend.
Osayomwonbor Rachel Algbedo, student and Alternative Break Co-coordinator, has served in her position as co-coordinator for two years, yet she isn't new to volunteering. Her first experience began in 9th grade when she volunteered with Habitat for Humanity. Since then, she has had a love for serving the community.
As a co-coordinator, Algbedo was responsible for planning and organizing alternative breaks. With the help of other student peer leaders, along with faculty member Aurora Schunk, she ensures that students participating in alternative breaks have housing, meals and planned service activities for the duration of the trip, among other necessities that make a safe and memorable trip.
Students participating in the alternative winter break trip have the opportunity to travel to the Detroit metro area and complete service work with Cass Community Services. In just under a week, students will complete service projects like helping prepare meals for those in need.
During the information session, Algbedo addressed the added benefits of participating in alternative breaks in her presentation. Volunteering is a means of meeting other students, gaining skills, furthering understanding of social issues, traveling, and building leadership skills.
Abby Stewarti-Martinez, a student prospective volunteer, said she came to the information session because she's interested in learning more about Detroit, its people's perspective, and helping others.
Aurora Schunk, Volunteer and Service Learning Center Associate began her work as an Americorp member, and became involved in the alternative break trips in the spring of 2012.
Schunk added a few points about the historical framework of the alternative spring break movment to Algbedo's presentation.  She said that the alternative break movement began in the 1980s nationwide across college campuses.  In lieu of traditional spring break, where students spent time partying, they would instead spend time volunteering and serving others in a drug and alcohol free environment.
Following the presentation, Schunk shared her enthusiasm for being a part of the process and seeing students develop once they participate in alternative breaks.
"The neat thing about being the staff member that goes on the trips with the students is that it allows me the opportunity to see their reactions to things that are going on in the community and seeing their development and growth from where they started at the beginning of the week, to where they end up at the end of the week," Schunk said.
Schunk's goals for the growth of the alternative break program are to develop things like  scholarships to help subsidize trips, as well as to increase student leadership in the program.
"I'd like to see a strong student leadership team that is led by students, who have gone on a trip and feel inspired and motivated to encourage their peers here at Buffalo State," Schunk said.
Email: [email protected]
Leave a Comment