Volleyball sweeps home court tournament
Bengals secure second place in SUNYAC, bye to semifinal round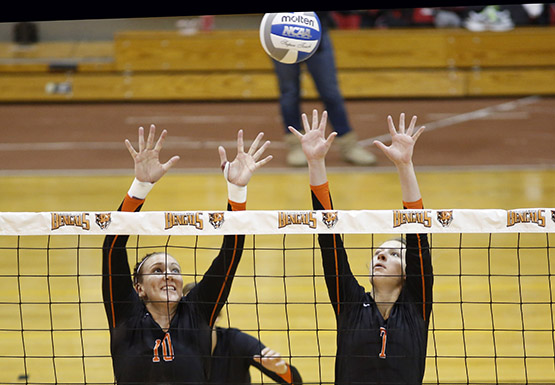 Almost a year ago, after winning a program-best 26 games, the Buffalo State volleyball team's 2012 season came crashing down against Cortland in the SUNYAC championships, losing to the Red Dragons in the finals in straight sets.
Stretching back to the team's inaugural season in 1979, Buffalo State has never beaten Cortland, a fact that laid heavy on the minds of the Bengals heading into last Saturday's 1 p.m. matchup against the Red Dragons at the Sports Arena.
A win would secure the Bengals second place in the SUNYAC and a bye into the semifinals of the playoffs. A loss would complicate their playoff status and continue Cortland's complete dominance over Buffalo State.
"Everyone was a little nervous, including myself, before that game," coach Maria DePeters said.
Before facing Cortland, the Bengals ripped apart Potsdam on Friday in just 58 minutes, beating the Bears in straight sets, 25-13, 25-18 and 25-12 and holding them to just 43 total points, the lowest point total Buffalo State has allowed all season.
Outside hitter Sarah Horvath said the team was pumped up, in part because it was excited about hosting the final SUNYAC pool play tournament of the season, but also because the game against Potsdam was senior night.
"It was great," Horvath, a senior, said. "I felt like that was probably the best match we had all year. (Our play was) very fluid and together, we were loud, we were in to the game. We just had a great game."
The Bengals, full of confidence following their beat down of Potsdam, had revenge on their minds heading into the Cortland game on Saturday.
"We lost to them last year in the conference championship, so we (wanted) revenge," Horvath said. "Sometimes it's bad to go into a game with that mindset, because you just want to be cool every game. But I think we were really confident in our own abilities having played well against Potsdam, and we knew that we were the better team."
The Bengals (21-8, 8-1 SUNYAC) certainly played like the better team, crushing Cortland (14-7, 4-5 SUNYAC) in straight sets, 25-12, 25-19 and 25-22. Junior outside hitter Sam Parente had 13 kills, and Horvath added seven kills and 12 digs to lead the way for Buffalo State in the historic win.
"(Beating Cortland) has been our goal since I got here," said senior setter Kelsey Bashore, a transfer from Division I Louisiana-Lafayette who is in her third season with the Bengals. "For three years now, beating Cortland has basically been our goal. It was a very proud moment. I was really proud of my team."
Buffalo State finished the weekend by blowing by Oswego (19-13, 2-7 SUNYAC) in straight sets, 25-12, 25-16 and 25-16.
The weekend tournament couldn't have gone much better for the Bengals. They managed to secure a first-round bye in the playoffs, ended a losing streak against Cortland and closed out the home-court careers of the seniors in style with three wins, all without dropping a single set.
"I think we played really well," said Bashore, who was named SUNYAC Women's Volleyball Player of the Week for her performance over the weekend. "I had a lot of people tell us that it was the best they've seen us look all season. That means that we keep getting better, which is what we want to hear going into the playoffs."
Buffalo State plays the winner of the Fredonia vs. Cortland quarterfinal at New Paltz on Saturday, Nov. 9.
To prepare for the playoffs, the Bengals head to St. Louis to play three matches in the Washington University Bears Invitational, against No. 10 Washington University (22-5), Greenville College (21-5) and Michigan-Dearborn (10-27).
"We're playing really good competition and it's a chance to go out and play against some of the top teams in the country," DePeters said. "If we can compete against these really good teams, there's no reason we can't win our conference."
Leave a Comment