Professor of engineering technology presents on applications of 3D printing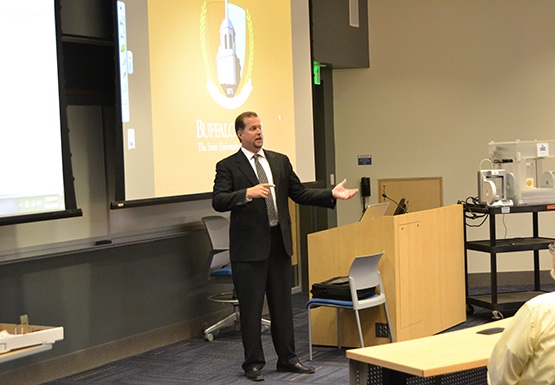 Three-dimensional printing was the topic of discussion Thursday inside the Technology Building during a seminar given by James Mayrose, chair of Buffalo State's engineering technology department.
Mayrose discussed how influential 3D printers are in today'ssociety and what engineers, doctors and other professions are doing to expand in the world of 3D printing.
"All sorts of things that you never even imagined could be done is actually being done right now," Mayrose said.
Mayrose shared that 3D printers are similar to ink jet printers. Instead of putting ink on a page, there are different types of materials such as plastic polymers, some metals, and glass, to name a few. Layer by layer, the printer builds whatever is being designed with that material.
Three-dimensional printers can print an array of objects — food,an artificial human kidney and heart, pens, and shoes are some of the things that have been printed upon.
"That's the beauty of it," Mayrose said "You're not only making static parts, you can make components that actually move and interact. It's easier to do than manufacture these objects by hands."
Two printers were shown to students at the seminar. Mayrosealso showed students four other printers in the technology building. Some of them are available for students to use.
The prices of these printers range from $1,000 to $250,000.
Mayrose believes that this new technology will open student's minds and allow them to create designs at a higher level.
Physics student A.C Williams said he was fascinated by the information he learned at the seminar.
"I'm very glad I attended this seminar," Williams said. "I heard of 3D printing, but I really didn't know the magnitude of it until now."
Mayrose gave an explanation on how to use 3D printers and a list of software programs needed to design a product.
"You need to be able to speak its language. You need to be able to know how to use the software packages to develop your parts," Mayrose said.
Mayrose said that 3D printers are known as a process of additive manufacturing. By putting one layer on top of another, literally adding materials layer by layer, intricate designs are created and less waste is being generated.
President of the Buffalo States Physics Club Daniel Geleckyjpromoted the event and printed out fliers. Geleckyi shared that the physics and chemistry department worked together to make this event possible.
"3D printing is a really, really big innovation," Geleckyj said. "Instead of starting with a block of material and cutting out everything you don't need, you start with nothing and add everything you do need."
Geleckyj believes this will have a profound effect on students.He shared that students don't have to be artists or skilled craftsmen to make things that pop up in their imagination now that we have 3D printers.
Biology major Anthony D'auria was also very please with theseminar.
"I've heard of 3D printing but I didn't know too much about it. The seminar was informative," D'auria said.
Mayrose is hoping to get newer and better 3D printers that can work with more materials. The four available now are located on the first floor of the Technology Building.
Email: [email protected]
Leave a Comment