Rugby rolls to No. 6 ranking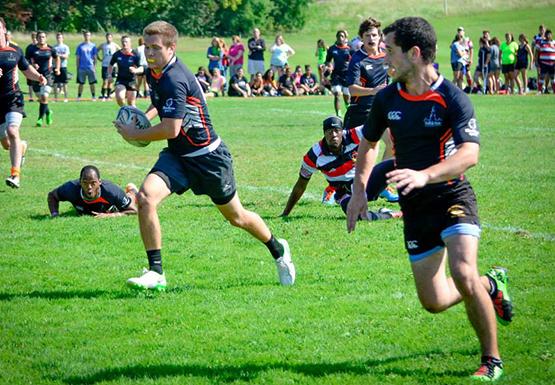 The Buffalo State men's club rugby team finished off a perfect 7-0 season with a 59-43 shootout win over Hobart on Saturday.
Seniors Mike Agro and Kyle Arena and freshman Mahinderjit Singh all scored two tries apiece.
It was Buffalo State's second meeting with Hobart this season, but Saturday was a far cry from the 59-0 win the team posted when it opened the season against Hobart at home. Buffalo State has been very stingy on defense this season. Prior to Saturday, it had only allowed 32 points in six games.
The team rested a lot of its starters in preparation for the first round of the playoffs this Saturday in order to ensure it would be healthy and ready. With an undefeated record, it's hard to talk about shortcomings in any area, but the team's inexperience probably had something to do with the dip in defensive play against Hobart.
"The high score was the result of resting some of our starters," senior captain Jeremy Galante said. "A couple of our starters were a little worn out or nursing minor injuries so it was great to be able to get some players some rest before the playoffs. We wanted to give some of our younger players some playing time, also. It was great to watch our younger players solidify the final regular season game."
Although the team expected a closer game than it had in the first meeting with Hobart, it was still surprised by the tremendous effort Hobart put forth.
"They came out and played like a team with nothing to lose," senior Sam Morrealle said. "They shocked us a little bit in the beginning, but we were able to make adjustments accordingly and catch our stride."
"It was a fun game to play in and watch," senior captain Christian Feickert said. "We came in knowing that we were the best team in the conference and they were the worst so it was good to see our 'B' team players put up almost 60 points against an 'A' team."
Buffalo State's successful season has propelled them to No. 6 in the nation among Division II club rugby teams, according to USA Rugby. It first cracked the top 25 two weeks ago after defeating Hamilton, 34-7.
Buffalo State is the No. 1 overall seed in its division, setting up a home matchup against Le Moyne (2-5) in the first round of the playoffs Saturday.
"I am really looking forward to the playoffs," Feickert said. "We beat Le Moyne in a tournament last spring in Oswego. They are a team that has been getting better and better every year so seeing how they stack up against us will be interesting."
The team plays on the field next to parking lot G. Its playoff match is scheduled for 1 p.m.
Leave a Comment