Bengals split pair of non-conference games, prepare to host final SUNYAC pool play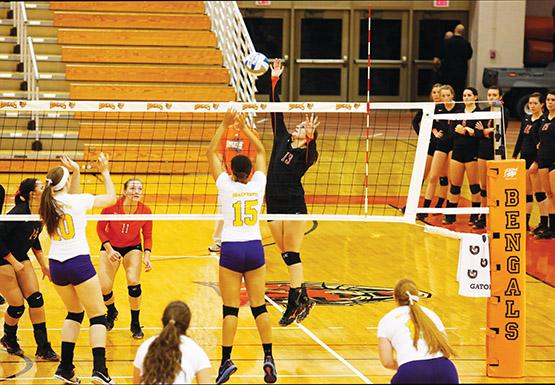 The Buffalo State volleyball team split a pair of home games this week, losing to Nazareth 23-25, 25-14, 22-25 and 25-27 on Wednesday before beating Pitt-Bradford in straight sets on Saturday, 25-15, 25-23 and 25-20.
After beating Nazareth (21-6) in their own tournament earlier this season, the Bengals knew the talented team would be out for revenge.
"The first time we played them, we went in not really knowing what to expect as much, so we just played to our best potential," senior setter Kelsey Bashore said. "Then, I think, since we beat them the first time … it's hard to beat teams twice. It's tough. We put our hearts into it, but it just wasn't enough."
Nazareth's star outside hitter Kassandra Buseck put the Golden Flyers on her back, constantly finding holes in the Buffalo State defense on her way to a team-leading 15 kills.
"Our block was very sporadic, whether we were not penetrating over the net or (Buseck) was tooling us," head coach Maria DePeters said. "And (Buseck) was on. She mixed up her shots at the right time and just beat our defense."
The Bengals nearly forced a fifth set, but lost the fourth set, 27-25.
"We were right there," DePeters said. "We could have had it. A couple of our sets were inconsistent, so we couldn't get aggressive swings on it. If our sets weren't there, our passing was off the net. Then, we ended it by hitting the ball out of bounds."
Buffalo State recovered on Saturday, beating Pitt-Bradford in straight sets.
"The girls learned from their mistakes on Tuesday," DePeters said. "I (told them) they've got to find what drives them to win volleyball games, and they came out and played aggressively."
With her team up two sets and firmly in control of the match, DePeters decided to change things up, putting players in positions they don't normally play. In between sets, sophomore Rachelle Kelchlin put on an orange jersey and subbed in for senior Chelsea Moore at libero.
"Rachelle will definitely be our libero coming into next year," DePeters said. "Her defense was on, and she deserved an opportunity to play libero."
There was a slight stoppage as the referee sorted out the substitutions at the scorer's table, but when play resumed, the new-look Bengals didn't miss a beat, jumping out to a 13-9 lead. Then, with senior outside hitter Sarah Horvath ready to serve, things came to a screeching halt.
The down official stopped play and walked over to the scorer's table. According to DePeters, after putting players in new positions, she handed in an incorrect lineup sheet, and the referee didn't notice until midway through the set.
The referee stood by the scorer's table trying to figure out the mistake for 10-15 minutes. Meanwhile, Horvath and the rest of the Bengals waited on the court.
"I wasn't thinking about (the delay)," Horvath said. "A lot of times a coach will call a timeout to try to freeze you when you're serving. It was kind of a momentum break, but I was just laughing with (my teammates) on the bench."
When play finally resumed, Kelchlin was ruled ineligible to play due to the referee's error. Even with players playing out of position, the Bengals still managed to win the final set.
"Nobody wants a delay of game," DePeters said. "But I think they came out hard and pushed through with people playing positions that they normally don't do."
This upcoming weekend is key for Buffalo State (18-8, 5-1), which hosts SUNYAC pool play.
The Bengals are currently in second place in the conference, behind undefeated New Paltz. A strong showing this weekend could guarantee the Bengals home-court advantage for at least the first two rounds of the SUNYAC playoffs.
The Bengals play Potsdam at 7 p.m. on Friday for senior night before playing Cortland and Oswego on Saturday.
Leave a Comment