Volleyball ties record win streak but can't break tough New Paltz team
Bengals win streak reaches 11 games over weekend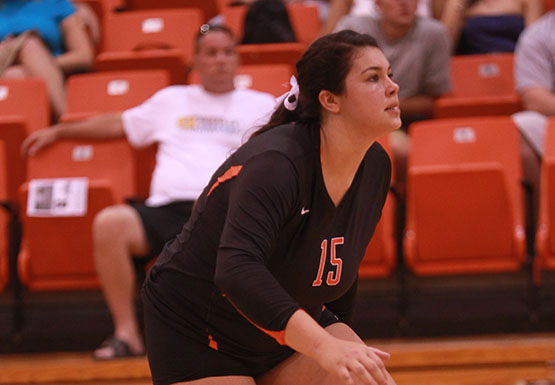 After beating Oneonta on Friday in straight sets, 25-21, 25-19 and 25-11, to tie a program-record win streak of 11 matches, the Buffalo State volleyball team found time to celebrate.
Letting the historic moment sink in, they posed for pictures on the court after the match, circling senior libero Chelsea Moore — who wears the No. 11 jersey — and smiling for the camera.
"They were pretty excited to make the history books," head coach Maria DePeters said. "The girls were pretty pumped about it."
But with Saturday's big matchup versus first-place New Paltz fast approaching, the Bengals' celebration soon turned serious.
The Hawks, who hosted the weekend's SUNYAC pool play tournament, entered the match 19-5 overall and undefeated in conference play, tied for first place with Buffalo State.
"(New Paltz) plays really loud, really aggressively," DePeters said. "They do whatever they can to put the ball away, and they have big hitters. They're a very aggressive team."
Only one win away from breaking the win streak record, Buffalo State senior outside hitter Sarah Horvath said her team was confident it could get the job done.
"We knew about (the record), but that wasn't a big part of our mindset going into the weekend," Horvath said. "SUNYAC play is a way bigger deal than the win streak was. It would have been sweet to officially break it against New Paltz. But we didn't."
The Bengals saw their streak stop at 11 after a four-set loss to New Paltz, 22-25, 14-25, 25-21 and 24-26.
"We were confident (going into the New Paltz game)," Horvath said. "It was our first match of the day, so we were well-rested. We just didn't really play well."
Heading into the match, DePeters decided to put junior outside hitter Sam Parente on the right side instead of her usual left side to counter New Paltz's game plan, which likely focused on shutting down the Bengals' team-leader in kills.
The switch proved effective for Parente, who had eight kills. However, according to DePeters, a team-wide lack of intensity early on sunk Buffalo State.
"The game plan when you're playing one of the best teams in the conference is to go out and play with all of the emotion and heart and desire as you can to win the match, and to play consistently," DePeters said. "And we didn't do that."
After losing the first set, Buffalo State found itself in a big hole early in the second set. New Paltz scored the first 10 points, and never looked back to take a two-set lead.
"Our intensity wasn't what it needed to be, and that's what kind of got to us," Horvath said. "We just weren't playing our own game. We let them control the first two sets. Then, finally, we came and fought back a little bit, but we let it go in the fourth."
The Bengals won the third set before dropping the final set — a set that saw six lead changes and 13 ties.
"(New Paltz) was tough," said senior setter Kelsey Bashore, who finished the match with 30 assists and 11 digs. "We let them get a point run in the beginning of the match, and they're a tough team to come back on. In order to beat New Paltz, you have to stay up the whole game, because they're pretty consistent.
"We felt let down because we didn't play our best," Bashore added. "It was disappointing to lose a SUNYAC (match) and not play your best while you're at it. But I think we recovered pretty quickly."
In the afternoon game Saturday, the Bengals beat Brockport in a straight-set sweep, 25-12, 28-26 and 25-11.
Buffalo State (17-7, 5-1 SUNYAC) plays home games against non-conference opponents Nazareth on Wednesday at 7 p.m. and Pitt-Bradford on Saturday at 1 p.m. before hosting SUNYAC pool play next weekend, the last round of SUNYAC play before the playoffs.
Although the Bengals are in sole possession of second place in the conference behind New Paltz, Bashore said she believes Buffalo State can still finish in first and guarantee home-court advantage throughout the playoffs.
"I think at this point in SUNYACs, based on everybody's record, anything can happen," Bashore said. "It's pretty up in the air who will host (the playoffs). The next SUNYAC pool play is going to be tough … (we have to) come back harder."
Leave a Comment